I've recently completed lots of projects, and begun even more new ones. Spring energy, maybe? Over Easter, I had to study for an exam. I do find it theoretically interesting that you can describe populations of animal and plants mathematically (that's population ecology) but ultimately, I do prefer to move about freely outdoors and collect plants for my dyepots…
My level of self-pity just soared because I had to study so hard. I decided the best remedy was to give myself a gift – a recently published Danish book on natural dyeing, "En farverig verden" (A Colorful World) by Anne Støvlbæk Kjær and Louise Schelde Jensen, the women behind Uld Guld.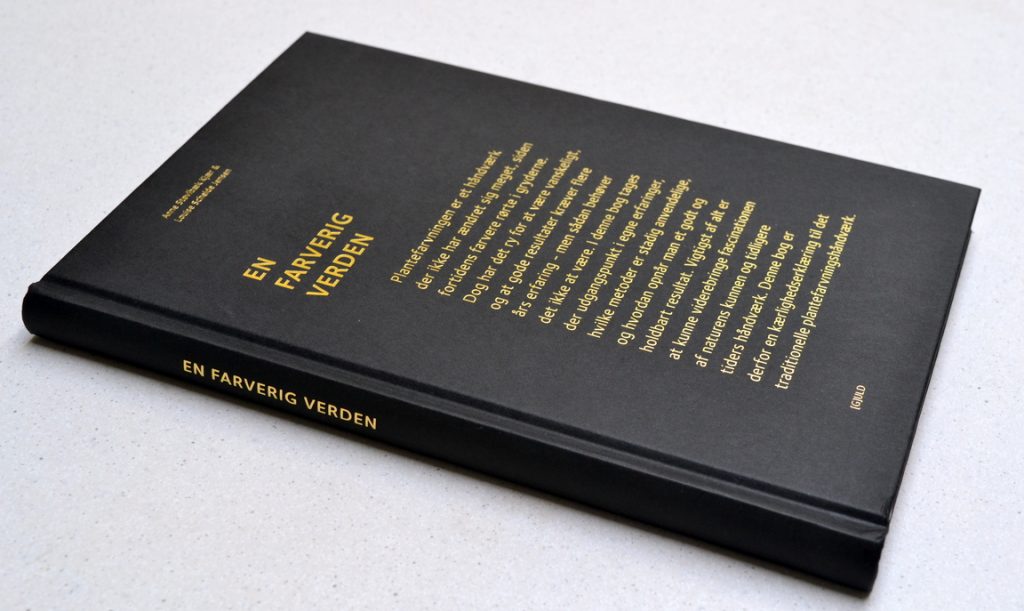 It's a totally gorgeous book, with beautiful photographs of wool, dyestuffs, and tools. But what a shame that it contains so little information. I've yet to encounter anything that is not described in greater detail in my trusty companion, "Farvning med planter" (Dyeing with Plants) by Ester Nielsen.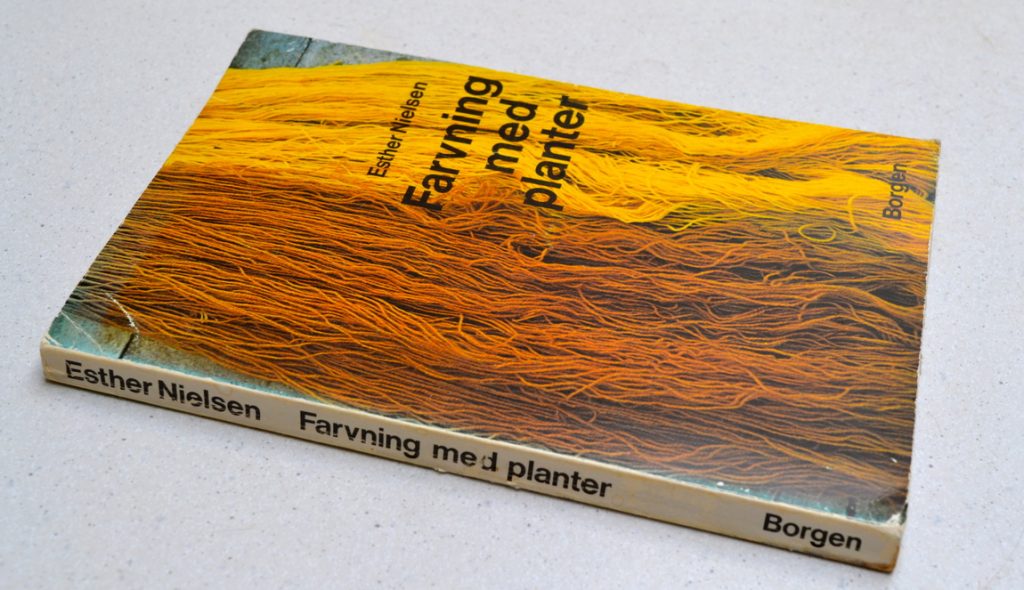 Having completed my exam, I did feel a surge of energy. I'm pleased to say that I've now published my pattern, Bilskirner. It took me much longer than anticipated to write and translate the pattern, and have it test knit. But now, it's up.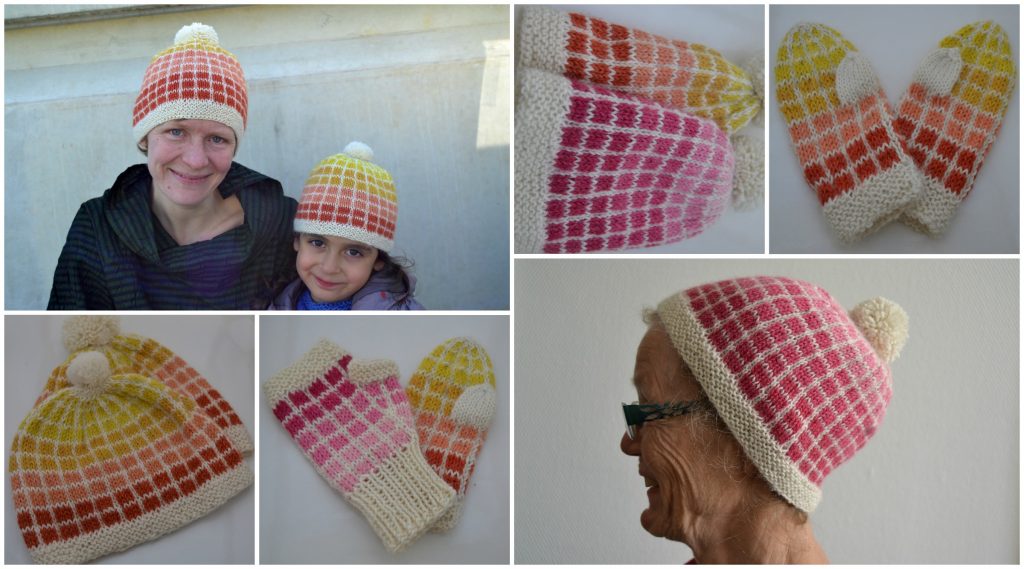 I've made kits for the Bilskirner pattern. They contain a pdf pattern and enough yarn to complete a set of hat and mitts/mittens for a child or an adult. The yarn is 100% alpaca, Guldfaxe. The kit comes in two colorways, one where the contrast colors are dyed with cochineal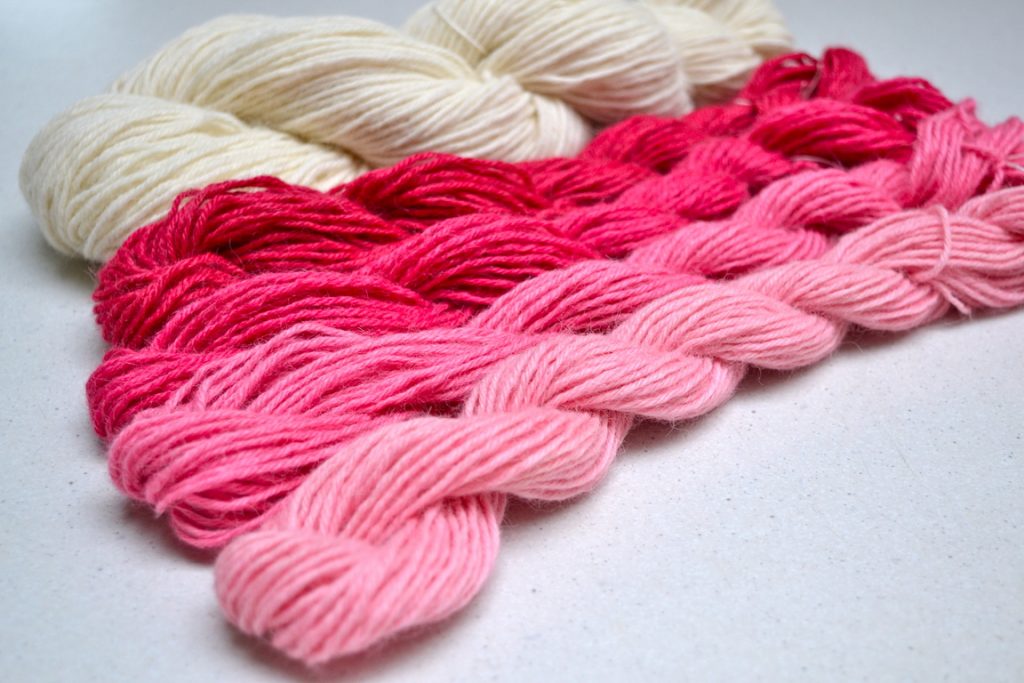 and one where the contrast colors are dyed with madder and tansy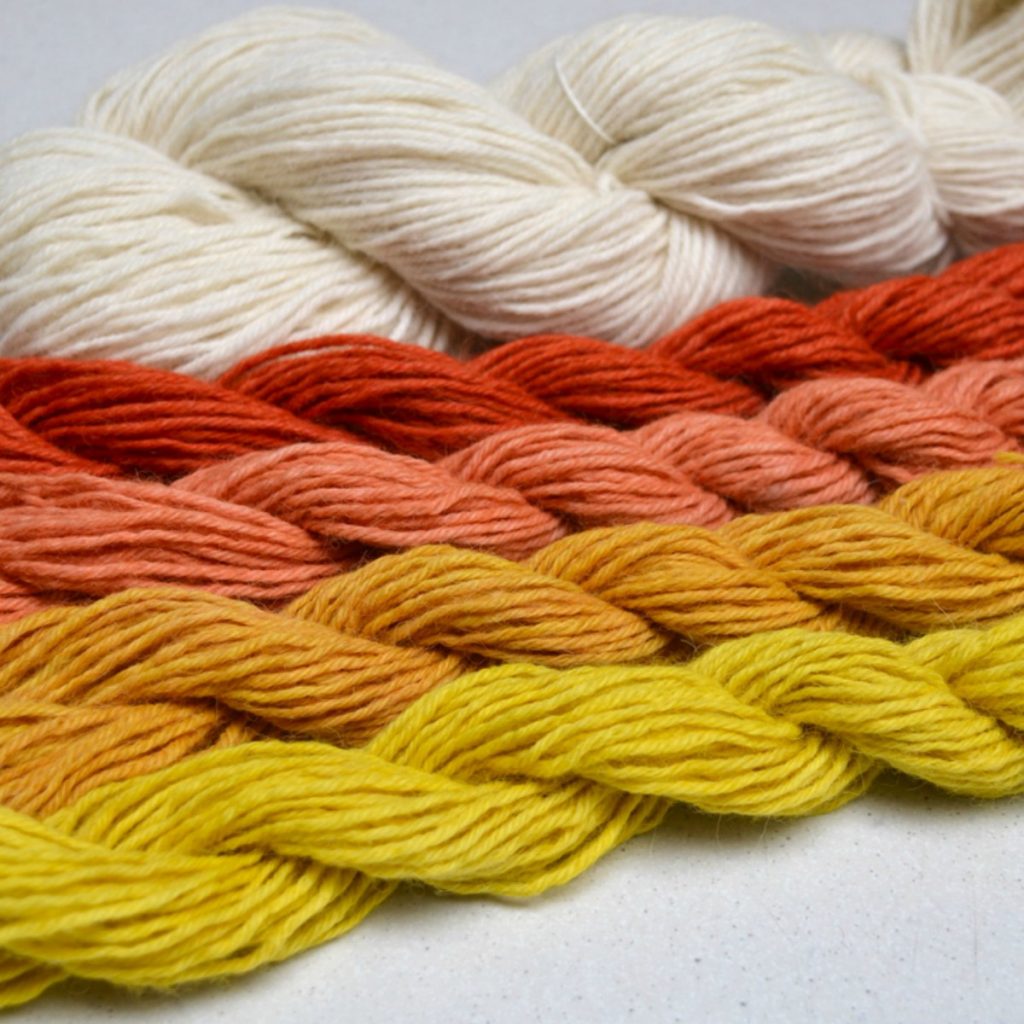 although they also look quite delicious together, IMO!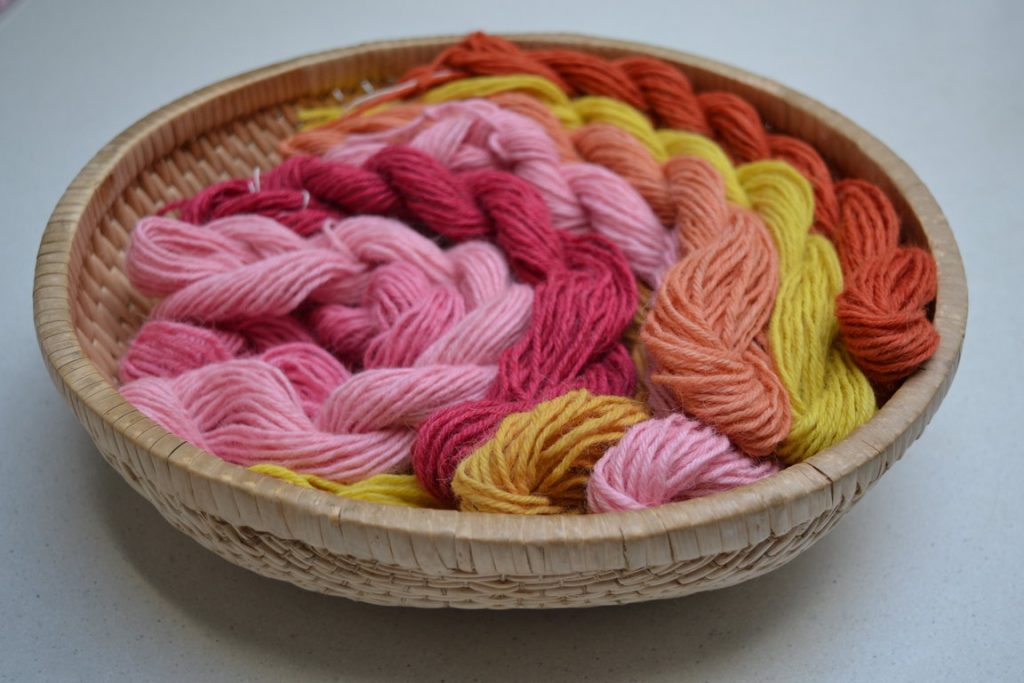 Edda is a new beginning. An oversized pullover with narrow sleeves, knit in my single ply 100% wool yarn, Norne. This is the prototype, knit in yarn that was dyed in two tones of pink with cochineal. Judging by the past, a pattern is going to take a while for me to write, but it will come.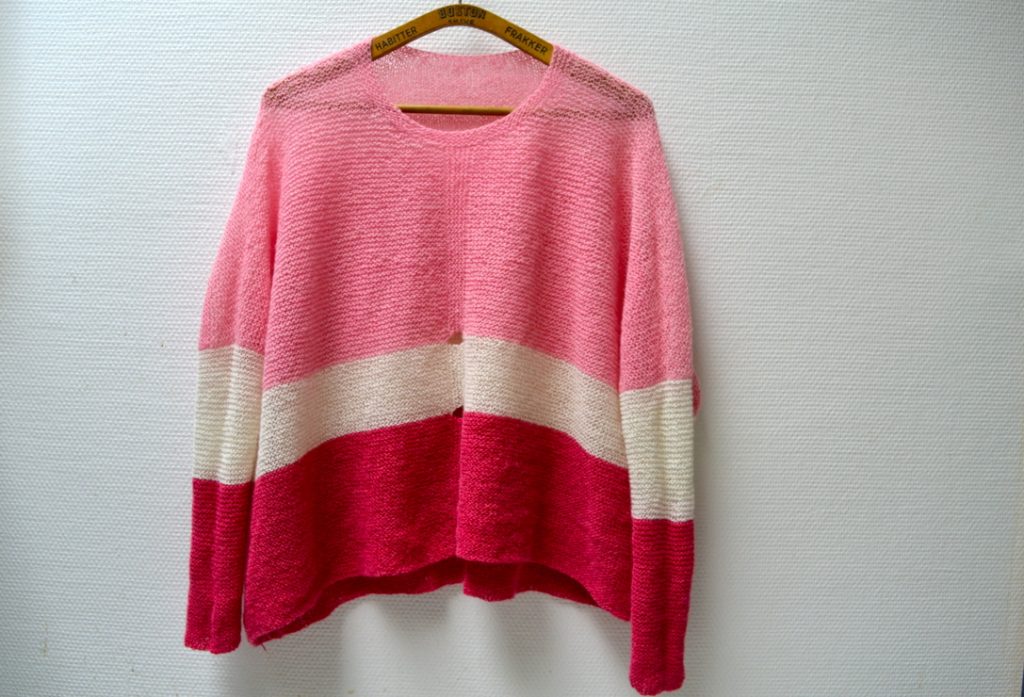 Edda is knit flat and then connected by grafting down the front, leaving holes between the color blocks (on purpose, on could of course close them)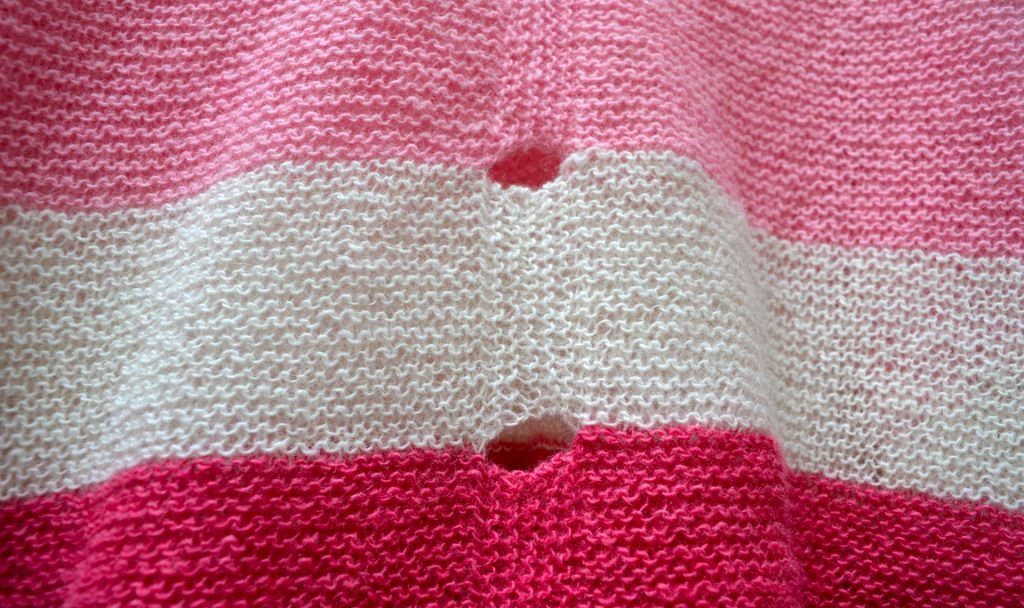 and the neck is knit on last.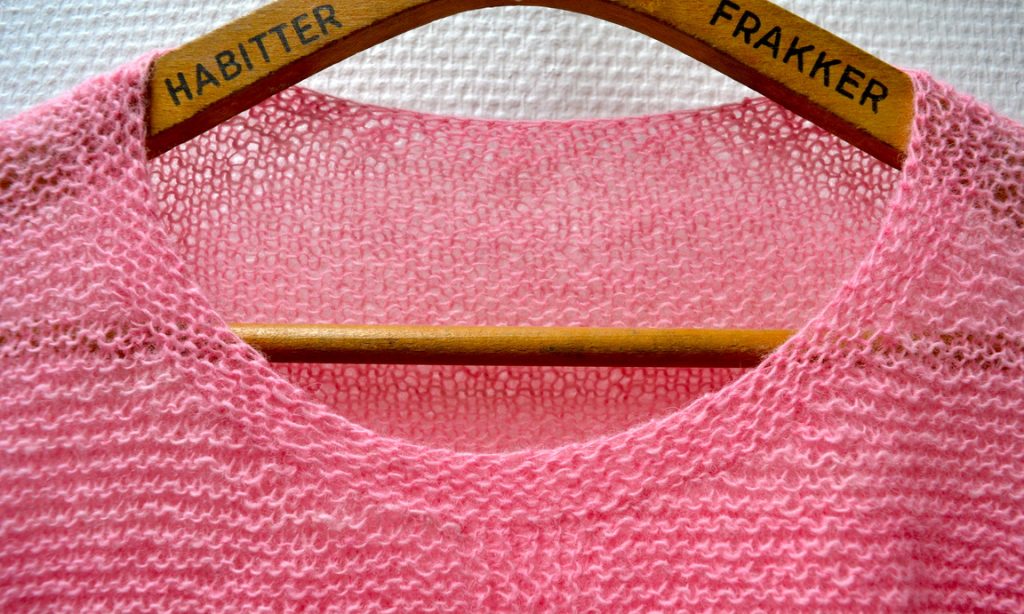 One should always use caution when claiming you invented something new – some genius somewhere always thought of everything… but I haven't seen other sweaters anywhere with the construction that I used for Edda. The shoulder is shaped using short rows, so it's comfy and seamless. But more to come on that when work progresses on the pattern.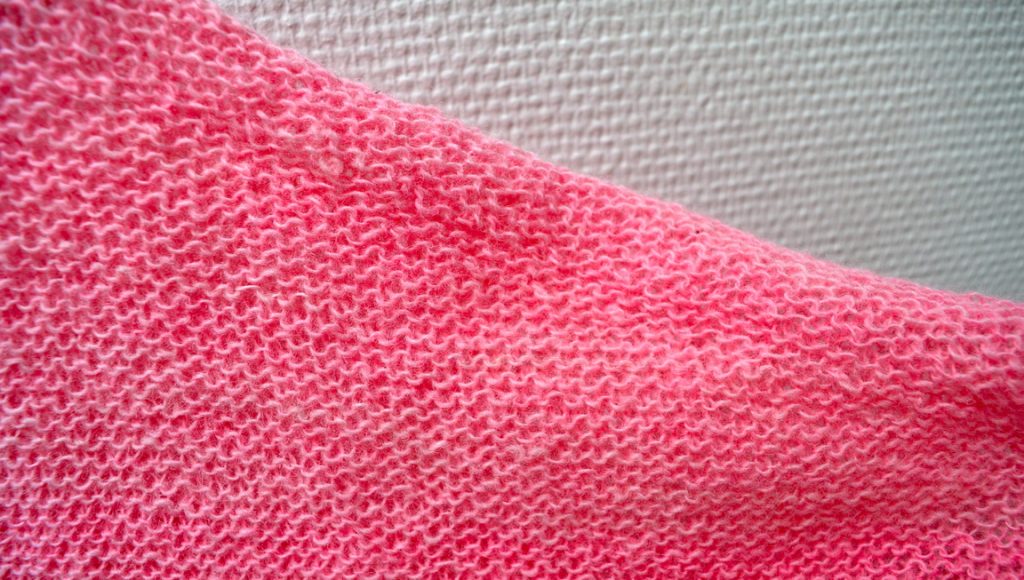 The principle behind my Vindauga blanket is refusing to leave my brain. I'm working on a version with striped windows, knit in Fenris 100% wool (450 m/100 g) on a 3.5 mm needle.
Here's the version in blue and green tones, using yarn from my experiments with indigo, weld, and mugwort.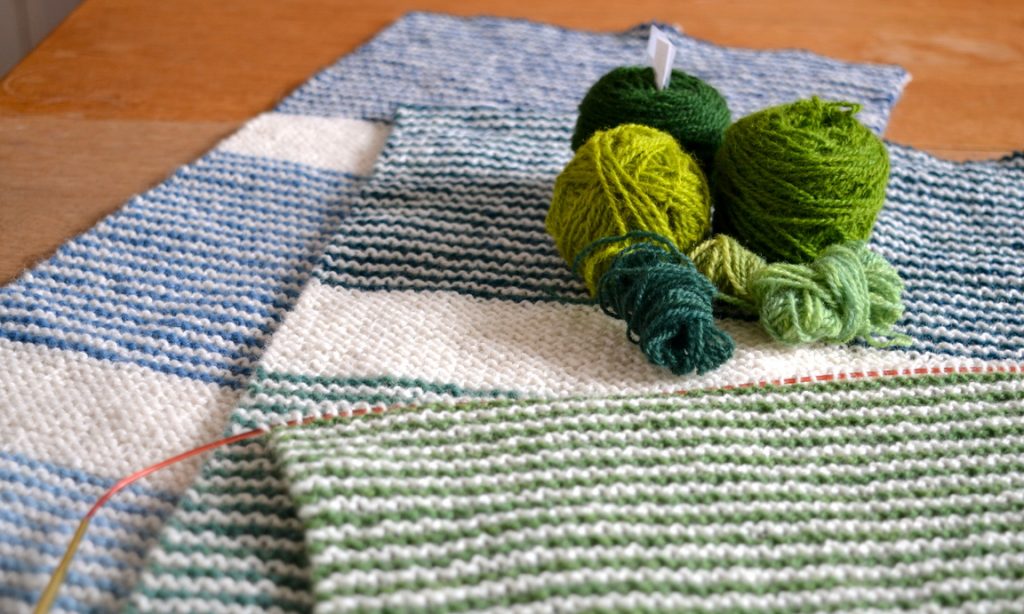 Finally, I'm working on an exam project for a course I'm taking on chemistry experiments for teaching purposes. My idea of using indigo dyeing was approved, so I'm beginning to work on my description of how to use indigo in the chemistry classroom. More to come on that!