I've knit a handful of small balls from leftover Fenris wool, and I have to say my family has never shown more interest in my knitting! "What are you making?", "Can I have one?"

I've just finished knitting a new version of my Vindauga Baby Blanket, which is much easier to knit than the original version (and I'll release the updated pattern on Ravelry one of these days). And I have to say it puts me in an excellent mood to look at all this garter stitch and stripes:
Looking at the leftovers of both white background color and different blue and purple contrast colors, it dawned on me that I could make a small fun project. And here it is: Lille Bold (that's Danish and just means small ball). Anyone knitting the Fylgje Shawl with a kit will also have plenty of leftovers.
The ball is knit in small short-row modules in garter stitch, stuffed, and then seamed.
I use a very simple – possibly the simplest – short row technique. After turning, simply slip one stitch purlwise with yarn in front. That's it, I don't knit stitches together later or anything of the sort.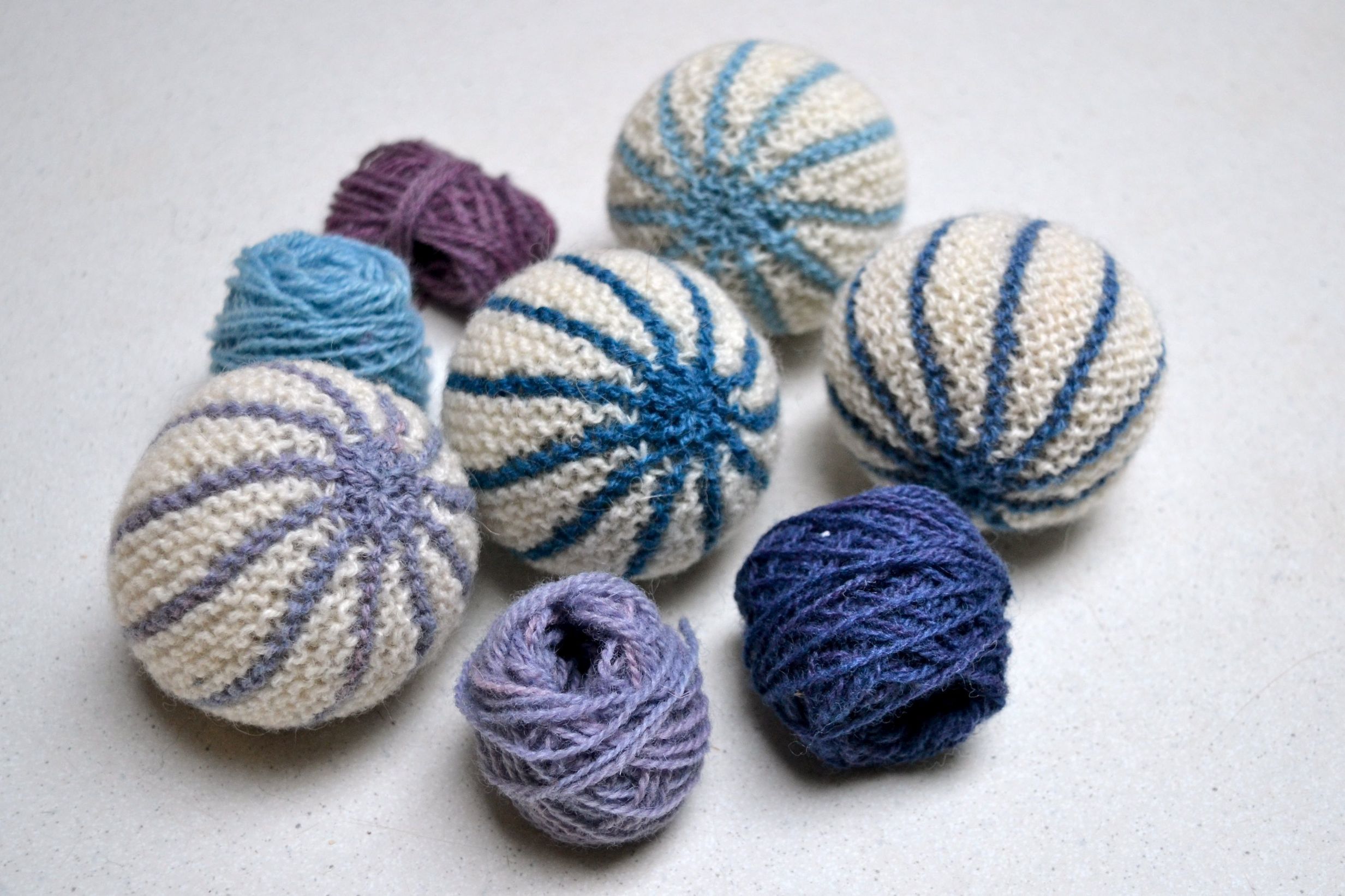 PATTERN
Yarn, Gauge, Needles, Notions
Fenris pure wool, 450 m / 100 g (492 yd / 3.53 oz) white main color and a contrast color. Each ball takes about 5 g of main color (25 yards) and 3 g of contrast color (15 yards).
A pair of 2.5 mm (US 1) double pointed needles, a tapestry needle.
My gauge was about 12 garter stitches to 5 cm (2 inches), and that gave me a ball with about 7.5 cm (3 inches) diameter.
Abbreviations
bo – bind off, CC – contrast color, co – cast on, k – knit, MC – main color, RS – right side, sl – slip, sl1wyif – slip 1 stitch purlwise with yarn in front, st(s) – stitch(es), WS – wrong side.
Instructions
Using CC, co 24 sts. Leave a tail of at least 20 cm (8 inches) to use later. K 24.
MC Section
Change to MC – leave CC attached for later.
Row 1 (RS): sl 2 sts, k 20, turn.
Row 2 (WS): sl1wyif, k 13, turn.
Row 3: sl1wyif, k 7, turn.
Row 4: sl1wyif, k 9, turn.
Row 5: sl1wyif, k 11, turn.
Row 6: sl1wyif, k 13, turn.
Row 7: sl1wyif, k 15, turn.
Row 8: sl1wyif, k 16, turn.
You have now worked one repeat of the pattern. Now, repeats are worked by knitting 2 rows with CC, then working the 8 rows of the MC section. Work 9 repeats in this way. You now have a total of 10 repeats.
K 1 row with CC. On next row, bo the 2 first and 2 last sts. Break CC yarn.
Work MC section once. Sl 2.
Use CC ends to sew the bound-off CC sts to the co. Thread yarn through all the garter bumps of the end, tighten, and weave in end.
Stuff the ball with carded wool or fiber stuffing. With MC, you can either cast off all sts and sew the ball closed. Or, you can sew the live sts to the co edge.
That's it. Happy knitting!