Green is a difficult color to achieve with natural dyes. One might initially think that it was easy, given that green is the predominant color in nature. That's not the case, since the green color of plants comes from chlorophyll, which doesn't work as a natural dye (since it's soluble in fat, not in water).
Since I had nice results with indigo overdyeing to get tones of purple, I repeated the process to get green. First, I mordanted my yarn with 10% alum. Then, I dyed it different shades of yellow:
a 1:1 bath of weld, gave a strong yellow
reused the bath above, gave a less strong yellow. Seen at the lower right in the picture above
a 2:1 bath of dry mugwort (so twice the amount of plant than wool) that I collected last summer. Gave a yellow-beige seen in the lower middle of the photo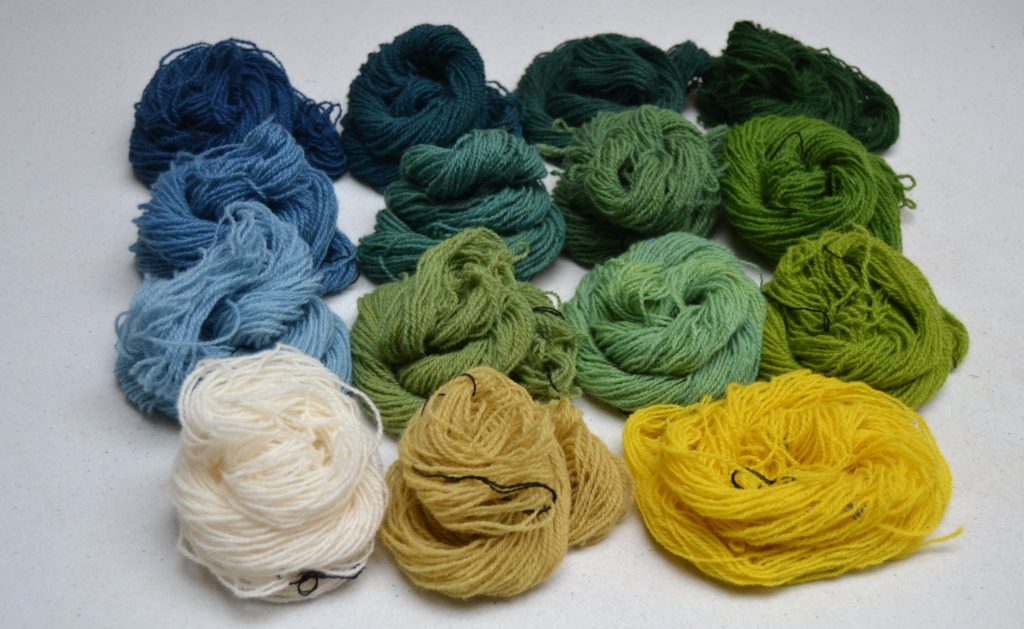 Then, I overdyed the different yellows with dark, medium, and light indigo. The 3 blue skeins in the left side of the photo are dyed with indigo on white yarn, just to show the shade of indigo. The next 3 green skeins are indigo on mugwort. The lighter indigo overdyes give dusty shades of green, while the darkest one gives an intense teal. Really worth remembering that such a dull beige can be turned into such nice shades of green.
The next 3 green skeins are indigo on less intense weld, while the last 3 skeins to the right are indigo on intense weld. Generally, indigo on weld gives clear, almost too clear shades of green. The indigo overdye on intense weld really gives an electric shade of green. The Robin Hood kind of green, which used to be known as Lincoln green.