The Iron Forest is an easy shawl in garter lace. The classic Shetland tree of life motif is framed only by a simple, straight garter edge.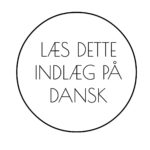 We have finally published our pattern for the Iron Forest Shawl. Often, "we" means "I, but I don't want to say that", but here, "we" really means we. My mother and I have designed the shawl together, and we have knit one each. She made hers from a skein of Norne that I dyed with dried leaves of Japanese indigo. Here, our elegant model – my sister – shows the shawl: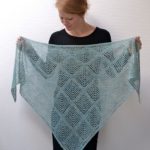 I made my shawl out of a single skein of Midsommer, our pure Lithuanian linen yarn. The shawl turned out quite large, clearly an adult size, but there was no stopping my 8-year-old when she felt that a model was needed!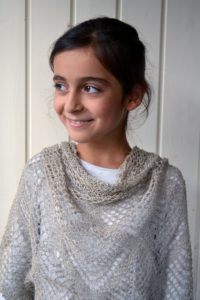 The Iron Forest is a managable project, even for those new to lace knitting. The shawl is knit from the bottom up, beginning with a single stitch, making one increase on every row throughout the shawl. When the top edge has been cast off, the shawl is done.
We have named this shawl after "Jernskoven", which is Danish for The Iron Forest. It is a forest in Norse mythology where all the trees are made of iron. As you can imagine, quite a shadowy, even evil, place.
I think the name is quite suitable. The shawl does have those severe, clean lines. A good match with metallic trees, I think? But my mother would like everybody to know that she doesn't like the name and that she voted against it. She announces that the name of a "nicer" place would make a better name for a shawl. I have tried to explain that
1) I couldn't find a nice and pleasant forest with a good name.
2) Knitting patterns should be searchable online, which is not the case if you use a very bland name like "easy shawl" or "tree shawl"…
3) I was completely open to other suggestions.
But no better suggestion was made in the course of many familiy dinners, so Iron Forest it is.
If purchasing at least one skein of Norne 1-ply wool or Midsommer linen at my Etsy store, I can add the Iron Forest pattern for free (just ask for it in comments)
You can see Norne here and Midsommer here.
It is also possible to purchase the pattern without yarn, right here on Ravelry.