Today, I've sown some of my dye plant seeds in small pots indoors. The night frost has almost gone, you see…
Last year, I had luck growing Japanese indigo and woad from seeds that I cultivated indoors before planting outside, so I'll do the same again with Japanese indigo this year. I'm skipping woad because Japanese indigo has a much higher dye content. Also, I have some woad plants growing from last year, so they might flower and produce seeds.
I'm also sowing seeds of weld and madder, and that's the first time I try those. Weld seeds look like poppy seeds, but the plant is related to cabbage and mustard. It is said to have exceptionally fragrant flowers the second year, so I hope it'll survive that long!

Madder seeds are a bit special, angular and sticky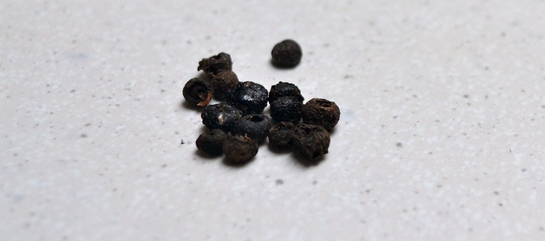 Now, all the seeds are in their little pots. Madder seeds just under the surface, weld and Japanese indigo seeds just on the surface.
Save