Whenever I test a new dyestuff, or change conditions with a known one, I use 10 g test skeins of thin supersoft wool. I always knew that they needed to become some huge knitting project all together to show off the deliciousness of the colors to their best, and now the time has come!
Checking everywhere for patterns for a blanket, I didn't find one that was what I imagined (as is usually the case!) so I'm making it up as I go (surprise!).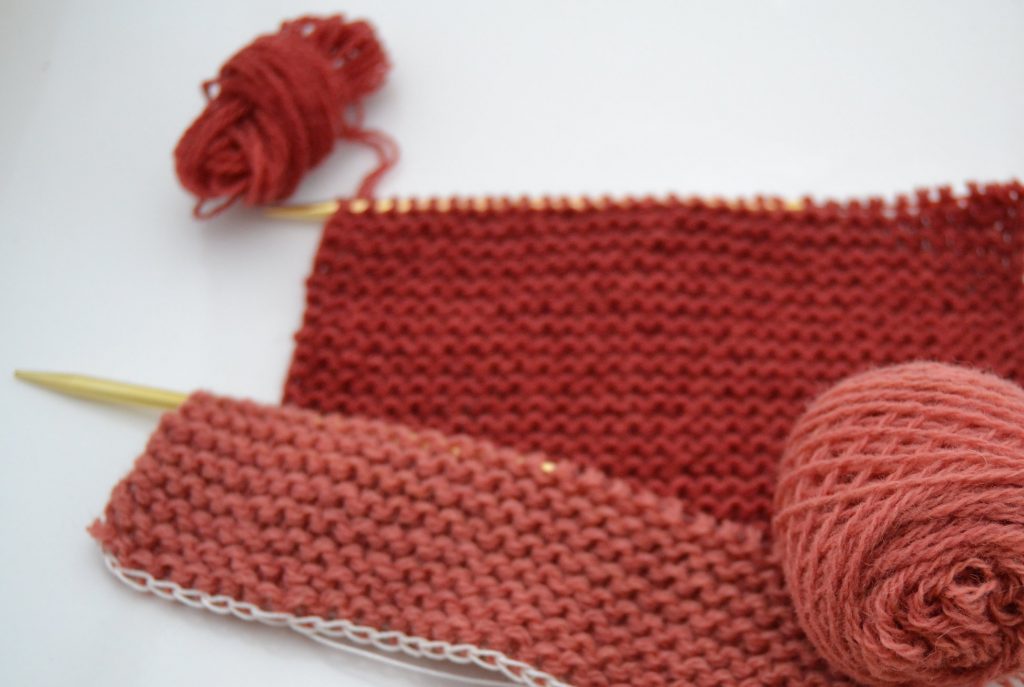 I wanted a rectangle of each color, so that the colors are not mixed more than to still be recognizable. I use my little test skeins to check back when I don't remember which color a dyestuff gave, and I want to be able to do that still after knitting them up. I may have to stitch something on the back or come up with labels of some sort (leather? fabric?) to keep it as a dictionary of dyes in the end. I'll solve that later.
So I provisionally cast on 32 stitches and knit in plain garter. To get a rectangle that obeys the golden ratio – assuming stitch and garter ridge gauge is the same – I need 32/1.618 = 19.77 ridges which I round down to 19 because the ridge directly is more stretchy.
So that means knitting 18.5 ridges and then leaving a tail long enough to complete number 19 with garter stitch when I join neighboring rectangles. That means the free end is at the opposite corner from where I began: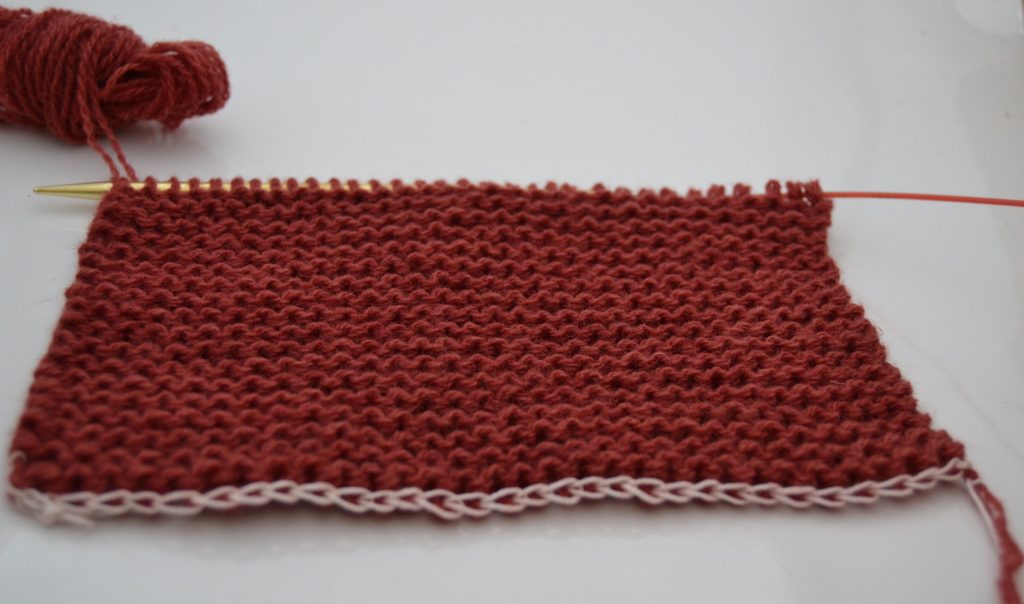 Above is a rectangle knit with yarn dyed with Cortinarius semisanguineus that I picked last fall in a plantation in the north of Denmark, a forest that I have walked with my parents since childhood. Some years ago, a national test center for wind mills was constructed there, it was on the news for months, and I found it very upsetting (although I love windmills as much as the next Dane). What if it destroyed the mushroom's home? Luckily, it didn't, and now the place, complete with windmills, is as full of mushrooms and lichens as ever.
But why the provisional cast on, why not just use a regular one? Well, if I was a less obsessive individual than I am, I might have done just that. But I want to finish all my rectangles and then shuffle them until the colors match their neighbors. And I may dye more skeins that need to join on the way.
To make the project slightly more obsessive than it already is (if that's even possible…) I'm going to write small articles on each dye as I knit a square dyed with it.
FACTS – GOLDEN RATIO RECTANGLES

Pattern
Again, no pattern. Making this one up as I go

Yarn
Supersoft 575 m/100 g 100% wool, held double

Needle
4.5 mm
Colors
All!!!

Conclusion
This is going to be a super long term project! I love having such projects in my knitting basket, as long as I can also work on other projects at the same time

Save
Save
Save
Save
Save
Save