This summer passed in a big cloud of rain, which has been lovely for plants and mushrooms that came out early and in huge numbers. We went on lots of day trips, for example Skovsnogen Artspace: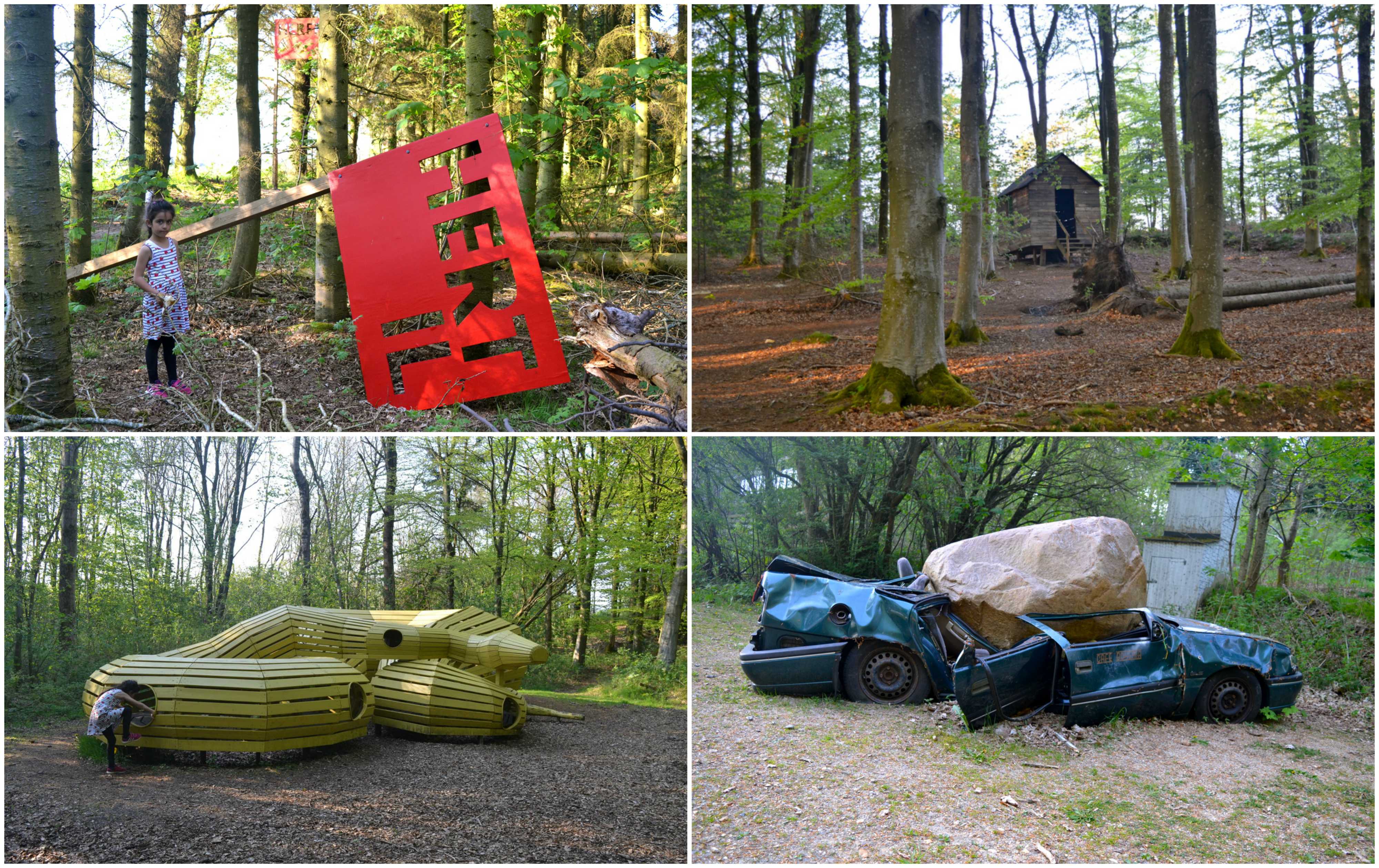 My mom has managed to finish a couple of knitting projects with yarn that I've dyed. An Elizabeth shawl designed by Dee O'Keefe in Einband that I've dyed with madder. This Icelandic wool is wonderful to knit with and to wear, but it also takes color beautifully. She also knit a pair of socks, the pattern is Laurel by Wendy D. Johnson, the yarn a sock yarn I've dyed purplish blue with indigo and a twist of cochineal.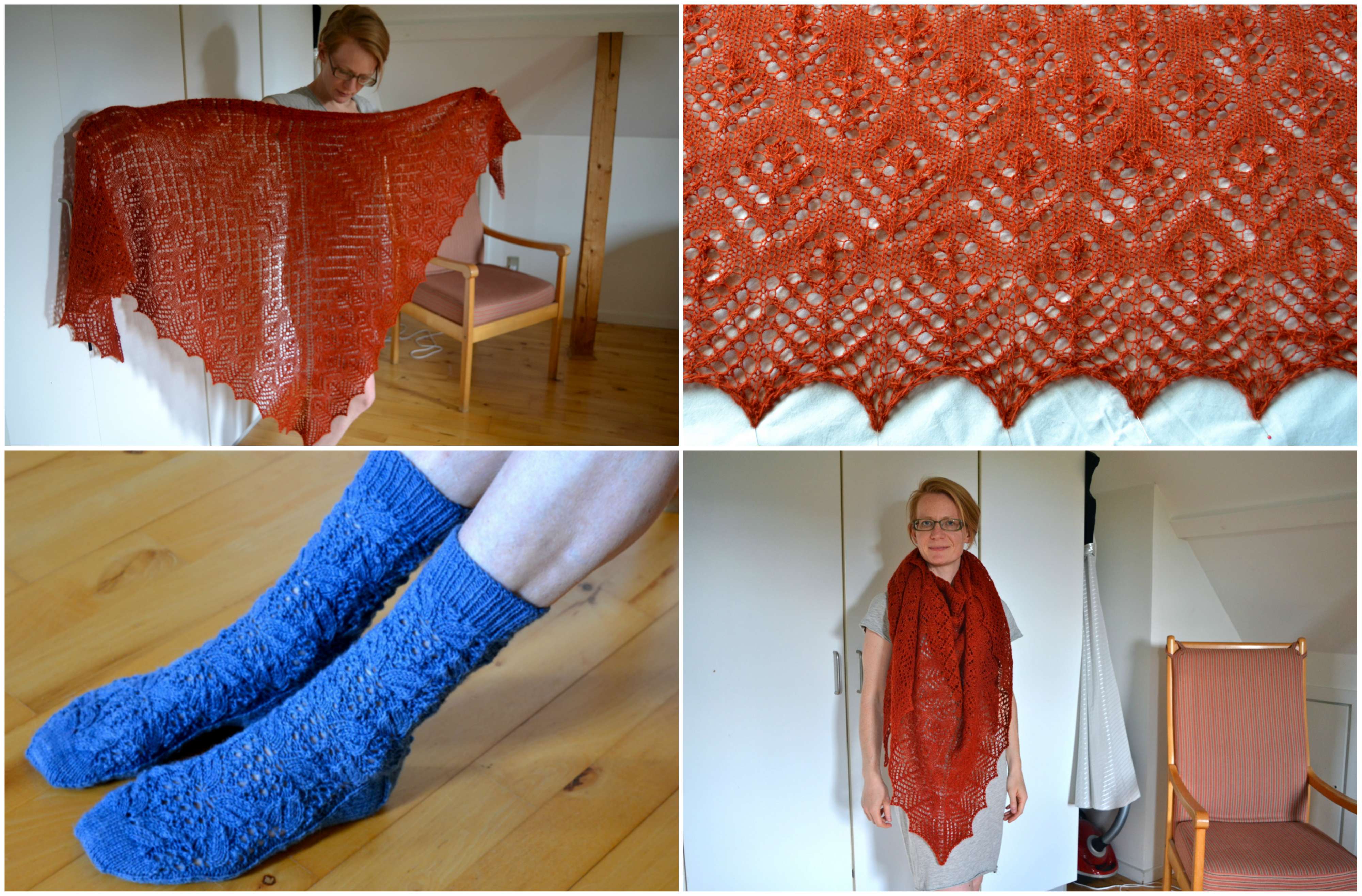 We went on a day trip to the hilly landscape at Rebild. The sheep are a perfect match for this landscape, and in the end, it is their grazing that maintains the heath (blueberries though, they don't touch). I don't remember ever seeing such steep hills anywhere else in Denmark – it tells you about the power of the melting waters from the end of the last ice age.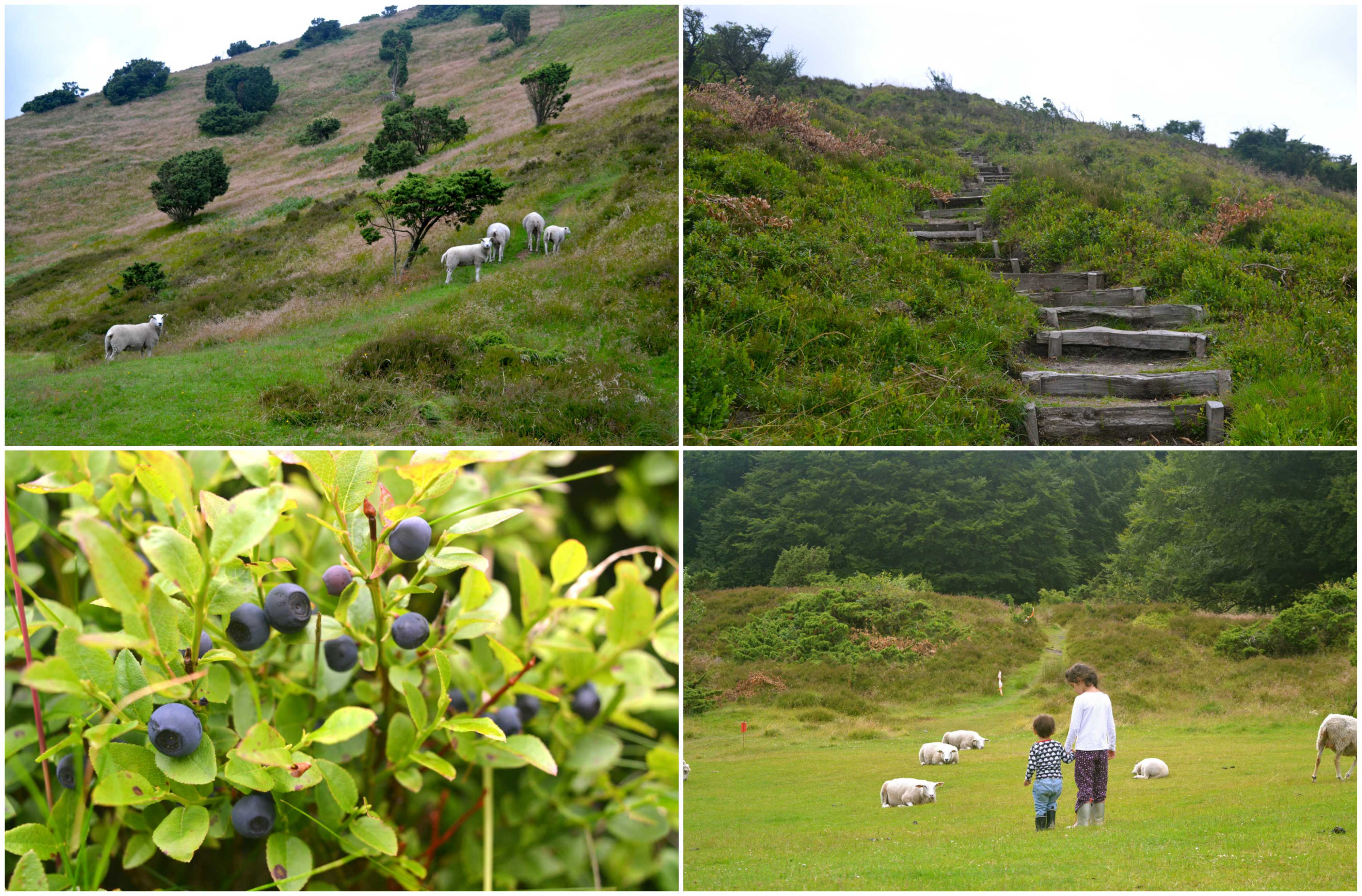 Rold forest is close by. There, we saw the unusual old beech trees, called "purker" in Danish. They have multiple contorted growths because they were cut down repeatedly for firewood. Fallen logs are left to rot, giving mushrooms and insects a much needed habitat.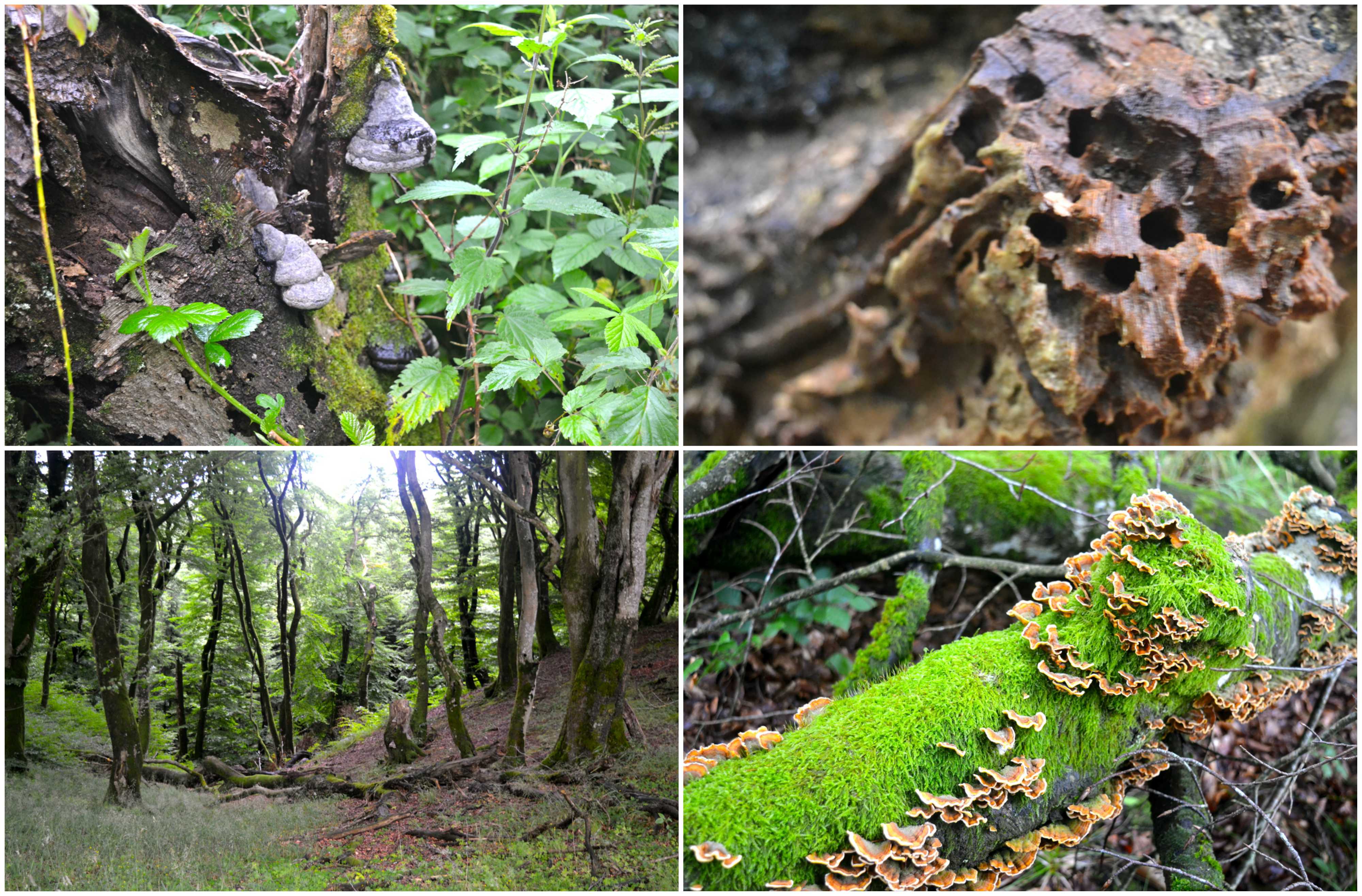 We also encountered biodiversity on the island of Livø. We went on a guided tour of the organic test farm, where experiments are made with growth practices for organic farming, as well as testing new crops such as quinoa and buckwheat.
It's always a good thing to see a field of crops with lots of other plants in it, such as clover and cornflower. I've always loved cornflowers, but I do see them in a new light after reading about their color in "Handbook of Natural Colorants" by Berchtold & Mussak. The color comes from a supramolecular, self-assembled, complex of cyanidins, flavones, and metal ions (Mg2+ and Fe3+), and that's why it cannot be extracted for dyeing. The complex comes apart, and the individual parts are not blue. This could be the case with other pretty colors that are impossible to extract? The amethyst deceiver failure comes to mind.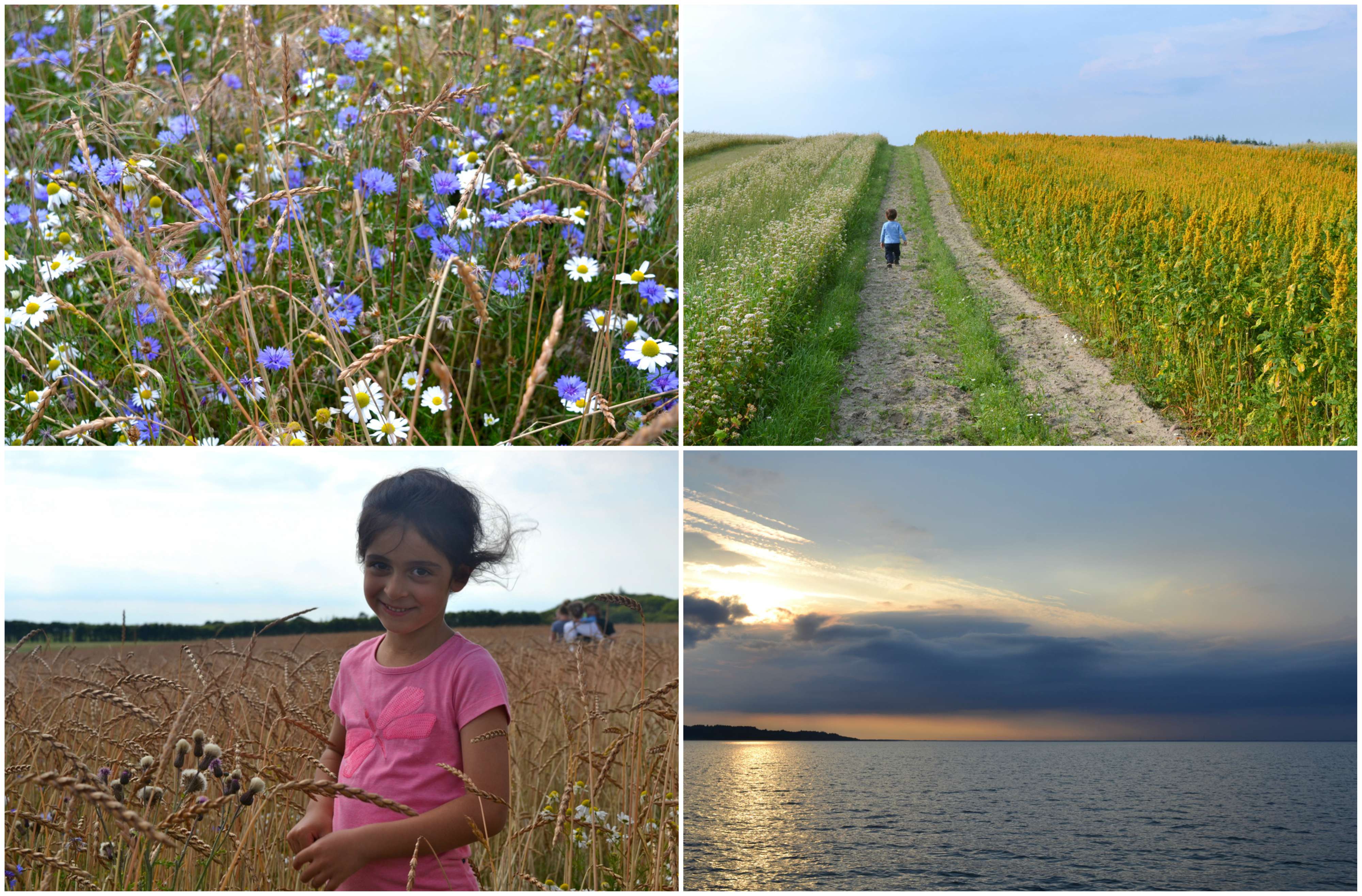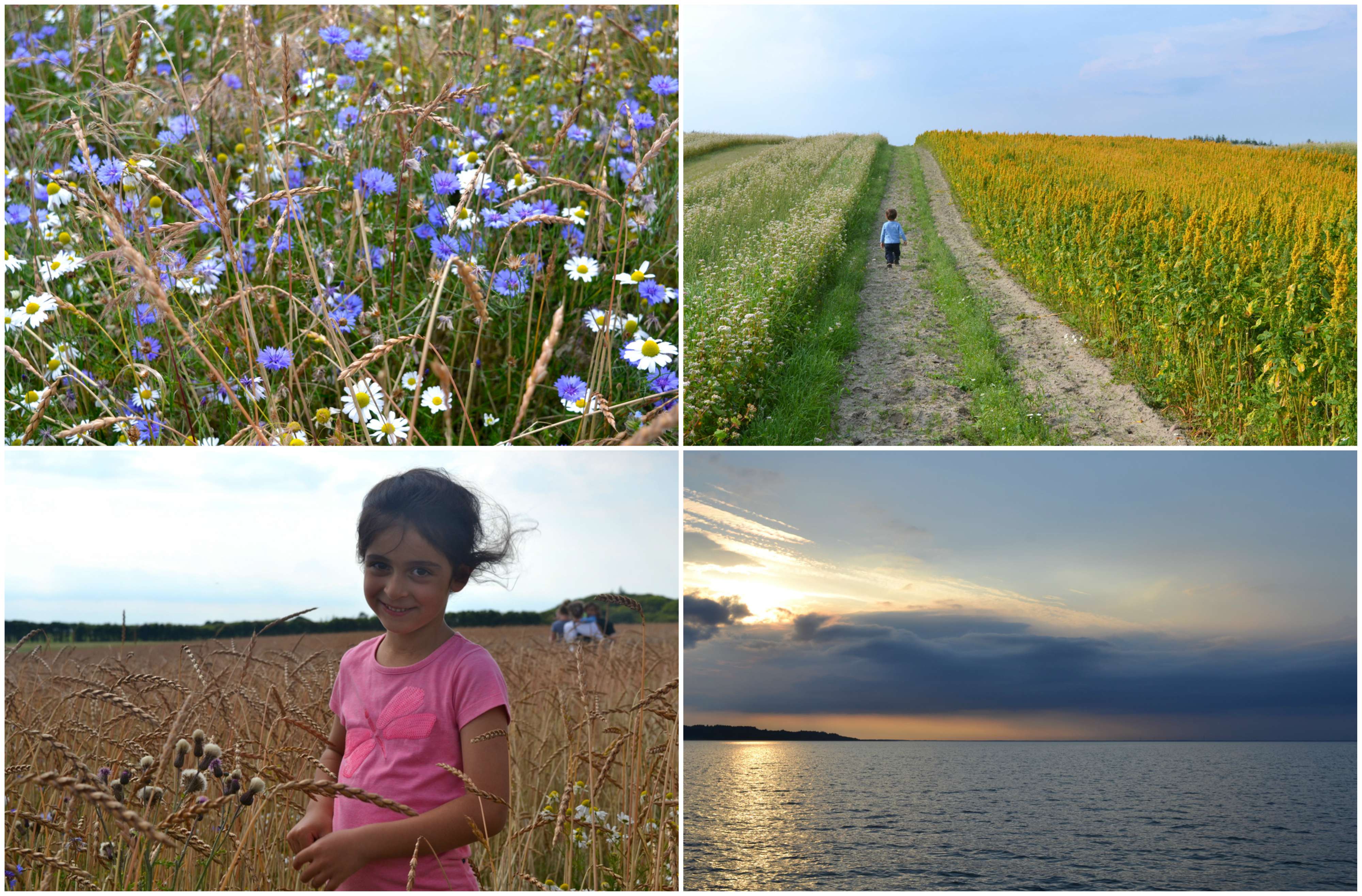 I obviously couldn't walk outside an entire summer without looking for lichens. I've added two books to my lichen library, one is a small and useful Danish pamphlet, "Laver i Tisvilde Hegn" by Hørnell, Jeppesen & Søchting. The other is the elaborate, somewhat academic "Lichens, An Illustrated Guide to the British and Irish Species" by Dobson.
I always find the most common lichens: Evernia prunastri, Ramalina fastigiata,  Xanthoria parietina, and Hypogymnia physodes which I've already experimented with for for dyeing. So this summer, I've looked for Cladonia species.
I've often seen the funnel shaped lichen (top left in the image below) on the ground and on dead trees, and I believe it's Cladonia fimbriata. I haven't collected this lichen, since I'm not sure how to. One funnel at a time? Also, Casselman's "Lichen Dyes, The New Source Book" does not mention this species.
Then there's the reindeer lichens. Until recently, I thought they were mosses, but it's never too late to learn something new. I found Cladonia portentosa (top right) in several places this summer, and my books do say that it is common, so I've collected a bit for dyeing.
I've only seen the bottom row lichens once each this summer, so I only took photos. Never pick a lichen if you don't know if it's rare. On the left, I believe, Cladonia rangiferina, and on the right, Cladonia coniocraea. Casselman does mention Cladonia rangiferina as a bwm (boiling water method) lichen that dyes shades of red to brown. Maybe it's more common in other parts of the world.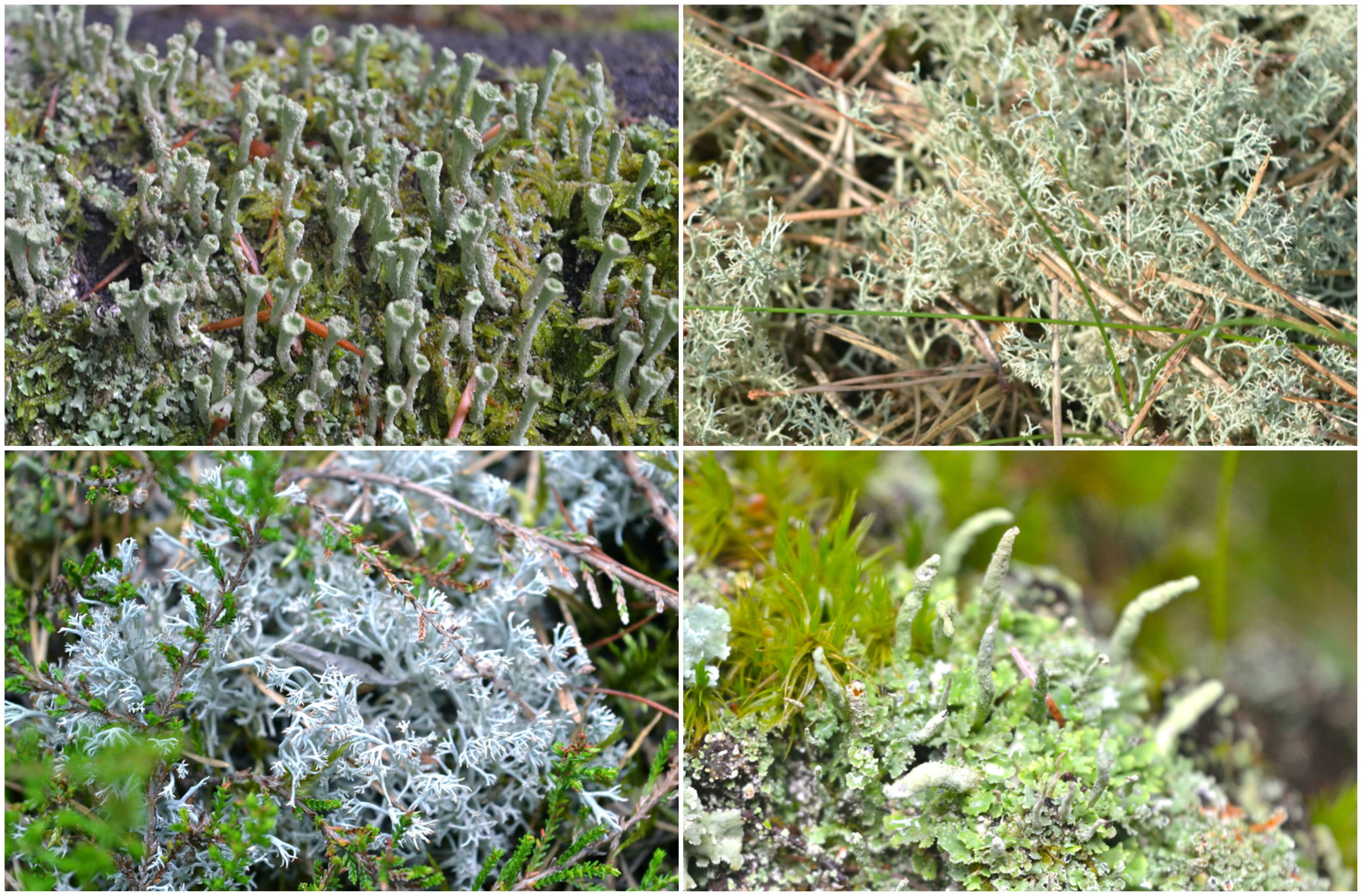 Home again, I'm beginning to prepare for the workshop on natural dyeing that I will teach the first weekend of October.