It's always a good feeling to finish a knitting project, but I feel especially good about this pair of socks because they are a prototype for a pattern, and they turned out just the way I had imagined.
The only problem is that I got a little carried away when I was knitting the legs, so they are too long to fit on my leg without increases. So I had to give this pair to my mother, who is very pleased with her new pair of socks. I guess having skinny legs has advantages sometimes… trying to think of the advantages of having fat legs, but can't think of any at the moment. Oh well! Here are the finished socks: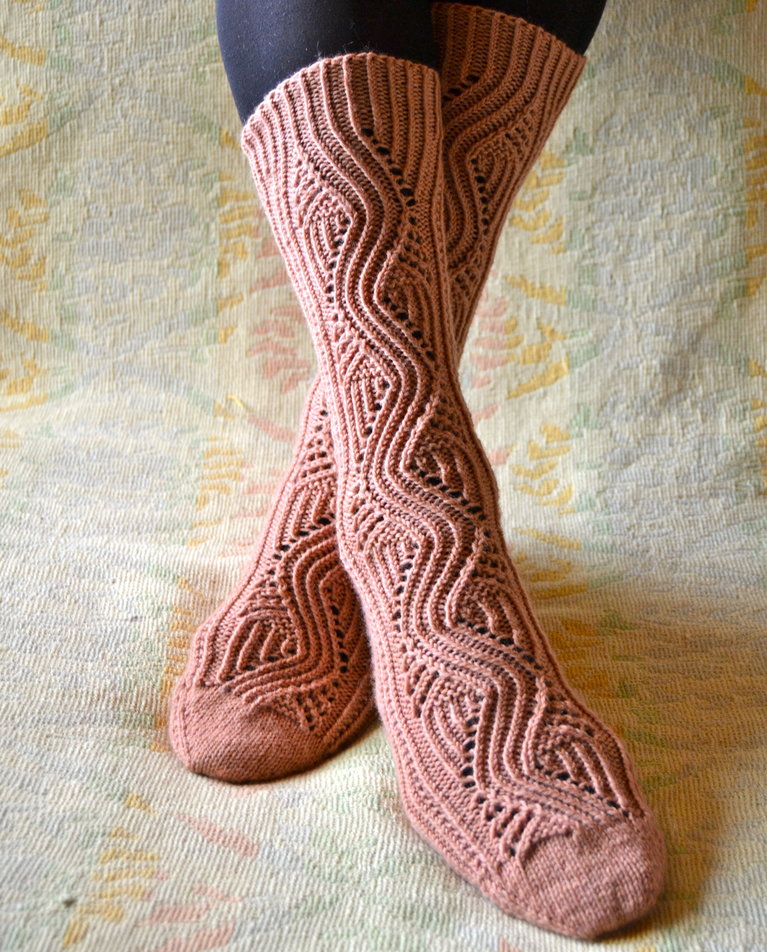 FACTS – NINE DAUGHTERS SOCKS
Pattern Nine Daughters, a pattern that I'm currently writing
Yarn Fenris 350 m/100 g 75% superwash wool, 25% polyamide
Needle 2.5 mm
Colors Fermented avocado pits and a dash of cochineal
Conclusion I love the wave pattern on my socks and the way it transitions into rib. And I find it enjoyable as ever to knit socks 2-at-a-time toe-up
I am writing the pattern now, and it will be called Nine Daughters (see this for the story behind it). I'm planning to publish this in English and Danish (will be looking for test knitters soon).
Next pair will be just normal sock length. I'm going to keep that pair myself! If I can make them fit, that is… The yarn I'm using for my next pair is dyed with indigo only, and they have the clear blue hue I sometimes achieve with a chemical indigo vat: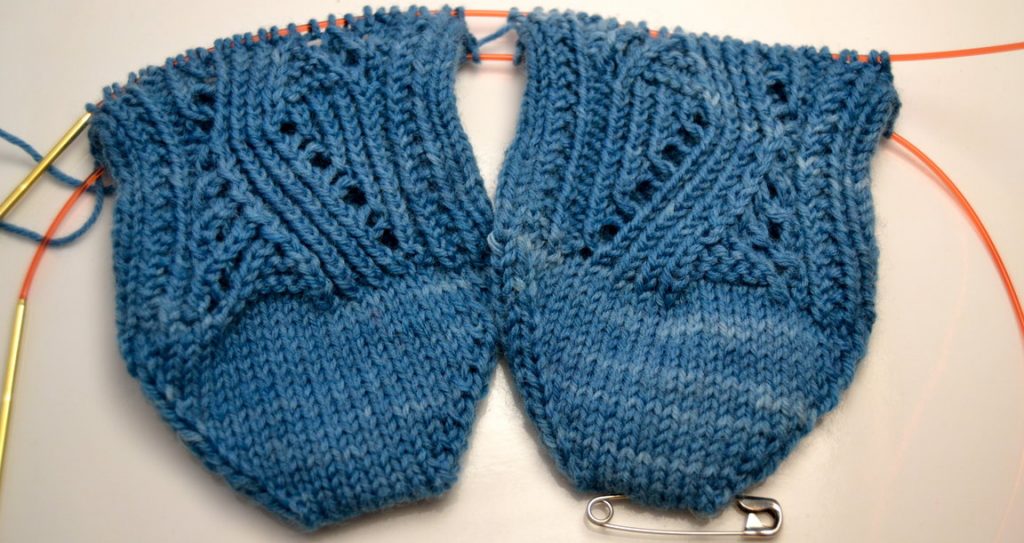 Det er altid en god fornemmelse at gøre et strikkeprojekt færdigt, men endnu mere når det er eget design og det bliver som jeg havde forestillet mig! Sokkerne her er jeg i gang med at skrive mønsteret til – og jeg er i gang med et par til mig selv, farvet med indigo. Det første par, farvet med avocado og cochenille, endte nemlig med at passe min mor, damen med de slanke ben.