I am knitting a very nice little shawl, Fylleryd by Mia Rinde, out of a skein of my new lace yarn, Norne (100% wool, 640m/100g). It's dyed with a somewhat exhausted madder dyebath: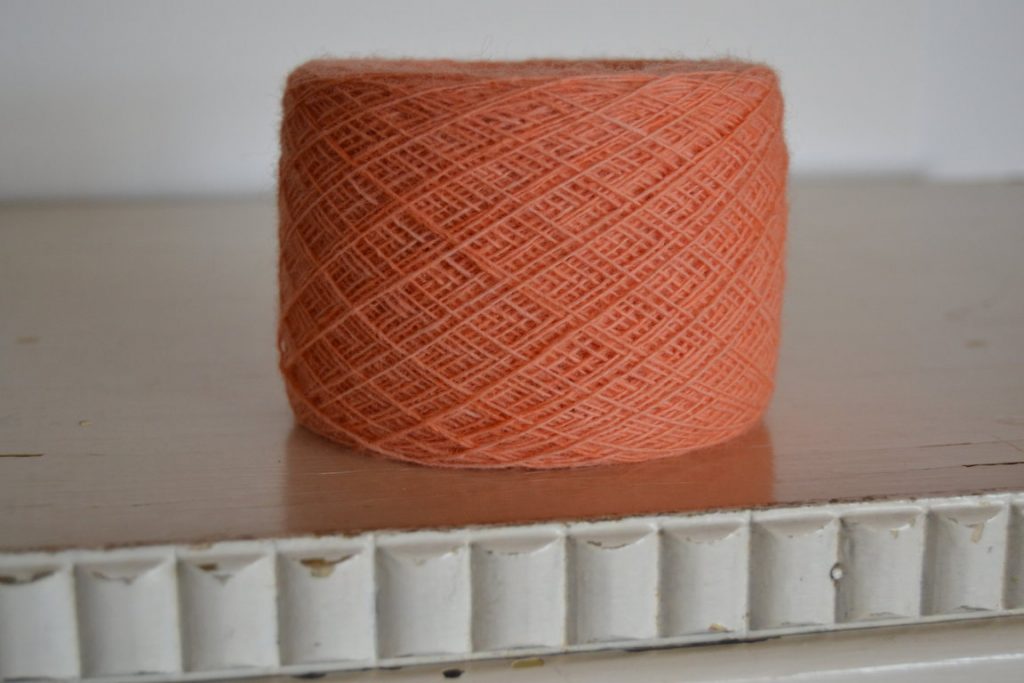 I like this color. I think it's vibrant and will make a flattering shawl.
But I was surprised when, a couple of days after beginning my shawl, I went to a clothing store and saw this very color everywhere in the new arrivals.
Then some days later, I did something that I hadn't done for at least 5 years. I bought a fashion magazine (which you don't need when you're anyway covered in drool, puke, breastmilk, and even worse substances). Again, "my" madder color was all over: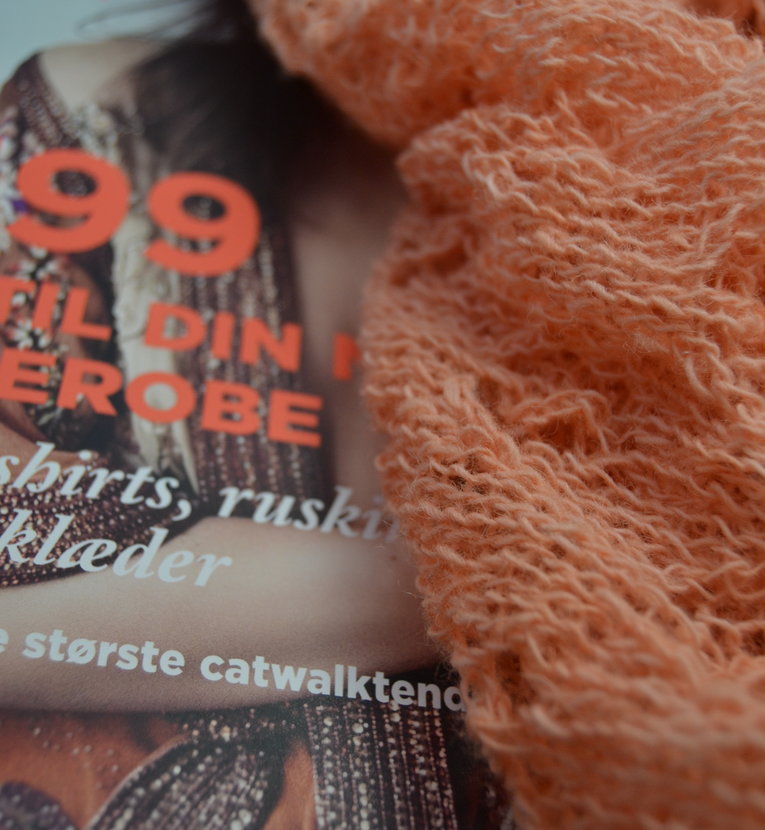 And one of the other colors the magazine informs us is fashionable right now is "aqua" or teal. I just dyed a skein the other day that looks like it was made to match this page (it wasn't):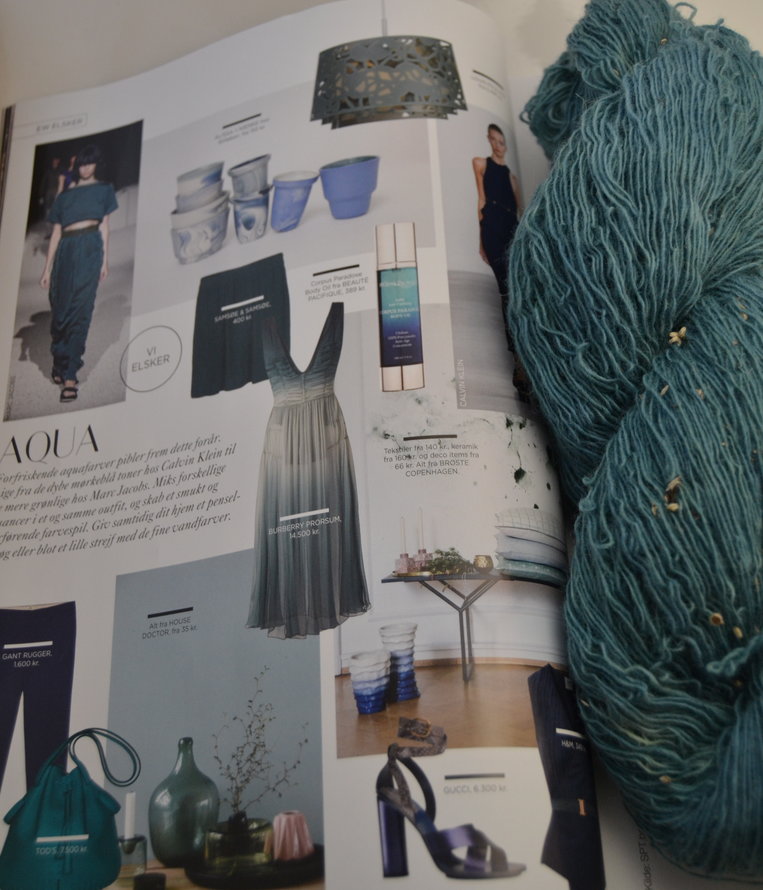 It still has some plant matter in it, but you get the idea. It's dyed with indigo and mugwort (grå bynke in Danish) from last summer's roadside:
Mordant 10% alun (after indigo dyeing)
Yarn:Dyestuff ratio Don't know for indigo, 2:1 dry for mugwort
Conclusion Wonderful teal, to be repeated!
I have also dyed some other skeins of Norne with cochineal, and they will be in our shop when we open. An example: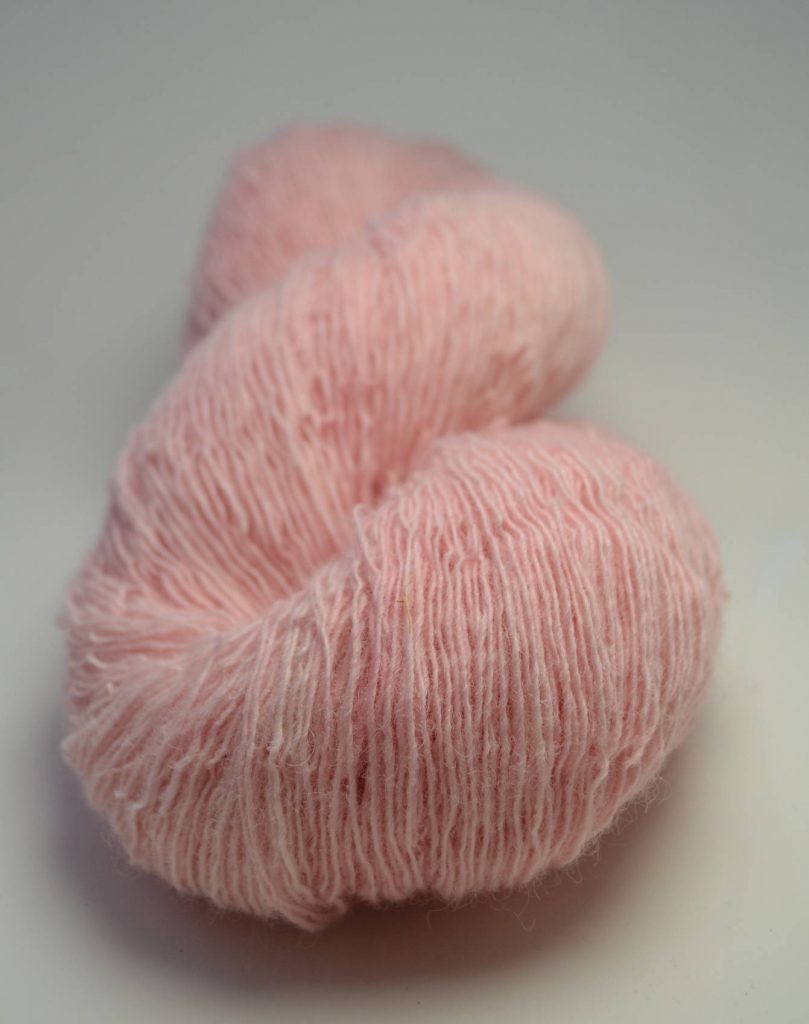 Jeg er i gang med at strikke et fint lille blondesjal, Fylleryd af Mia Rinde. Garnet er mit entrådede lace-garn Norne, og farven er et efterbad af krap. En farve der har været i omløb i turindvis af år, så jeg synes det er lidt sjovt at lige den farve åbenbart er så stærk i modebilledet dette forår. I det omfang man kan gå op i modefarver når man alligevel er dækket af snot, savl og gylp…
Save