This year, instead of binge-eating and wrapping a load of stuff, then unwrapping it, we decided to go to London on a Christmas trip. I have loved all the times I've traveled around Christmas/New Year (Paris, Chicago, New York, and New Delhi) and London was certainly no exception.
It seems that every time I hear or read an interesting story involving plants, Kew Gardens plays a role (for example, a recent radio story about conservation of a native fern on Ascension Island). So I made it a point to go there, although we clearly saw just a very small fraction of the place.
This is a bit of what we saw in the daytime: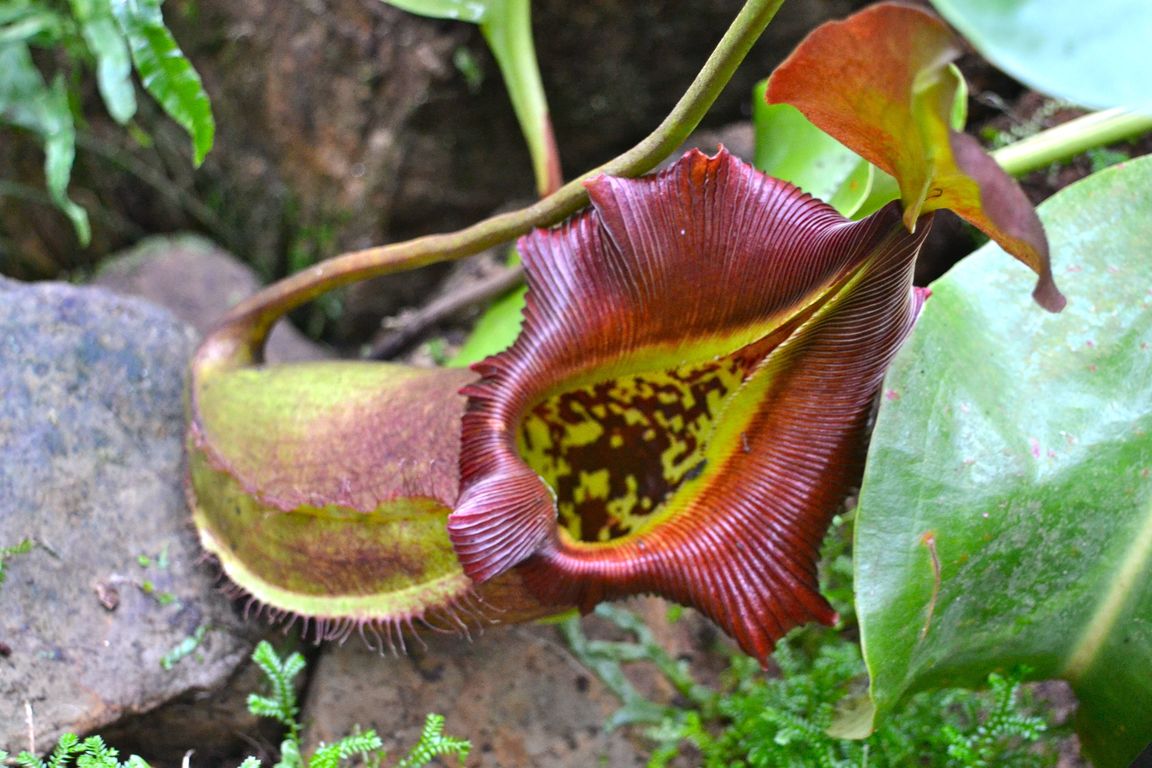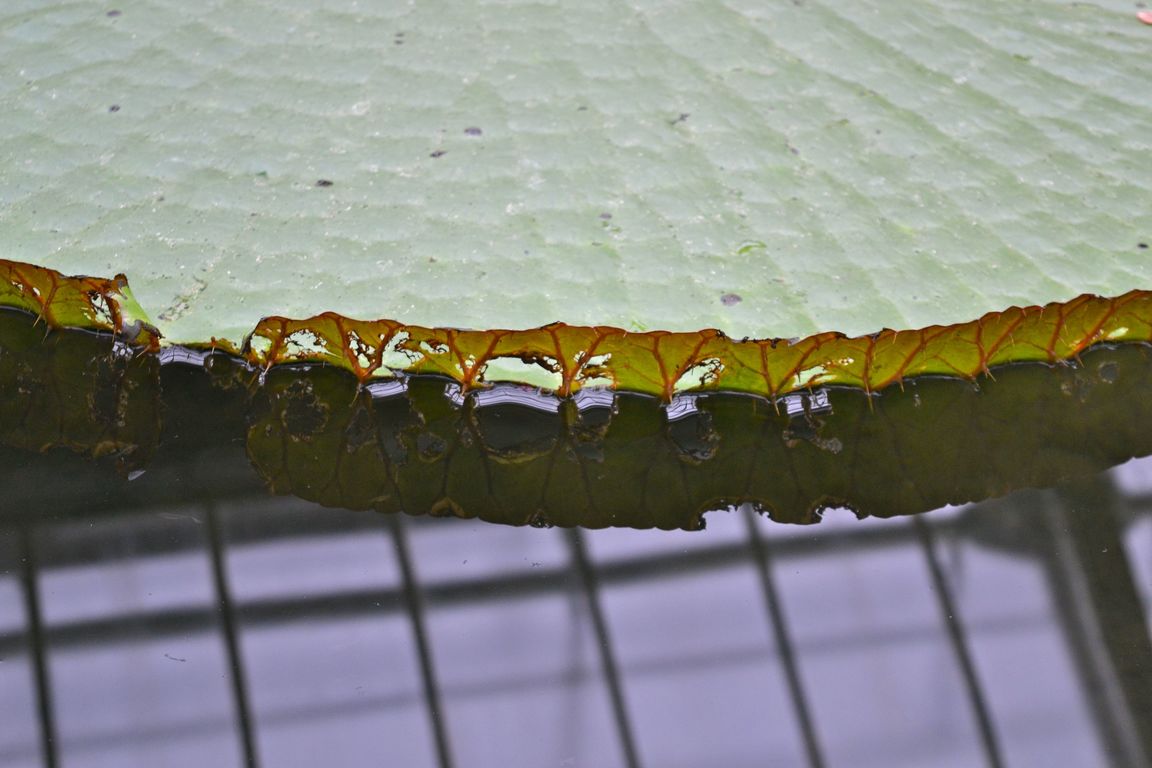 So lots of amazing plants, but I didn't see any dye plants. The closest was henna, and although it does dye wool (and hair), I don't really consider it a dye plant.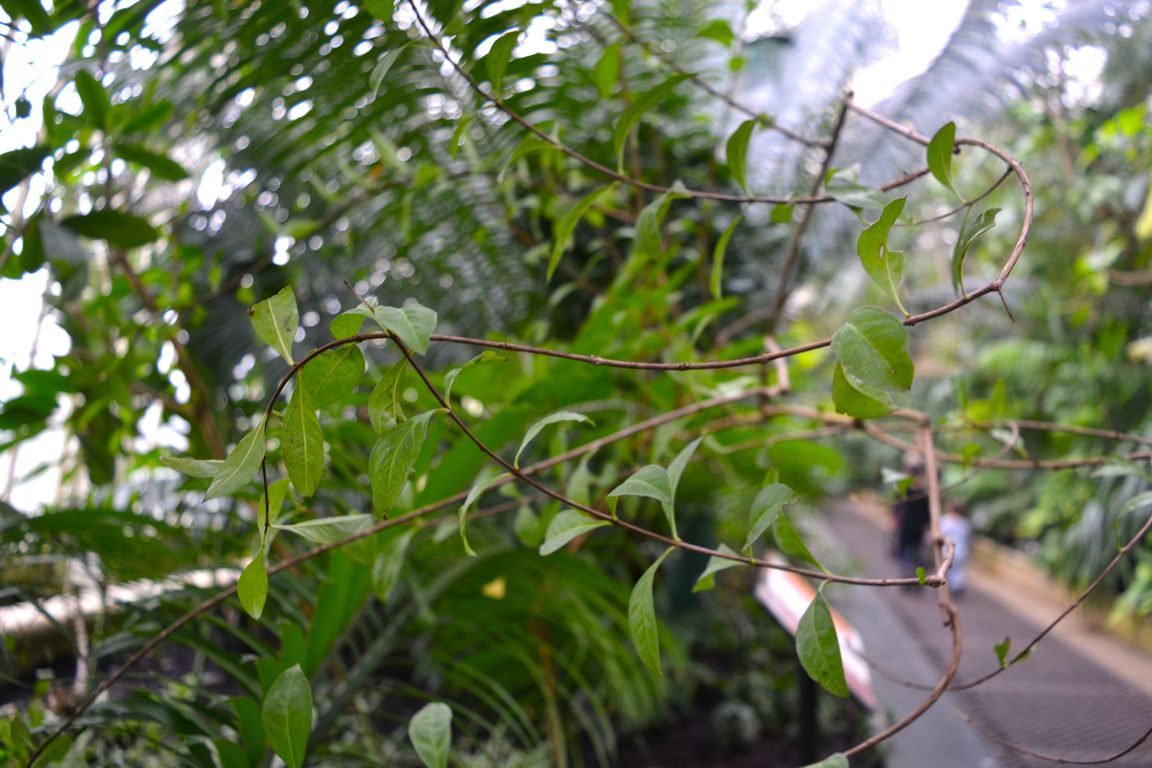 Save
Museum shops are always a temptation, and I almost bought "50 Plants that Changed the Course of History" by Bill Laws when it struck me that it does not contain any dye plants. Back on the shelf it went. I may be willing to accept that madder doesn't make top 50, but surely indigo should?
We returned in the evening for "Christmas at Kew", a lit path through the garden. It was cold and crowded, but beautiful: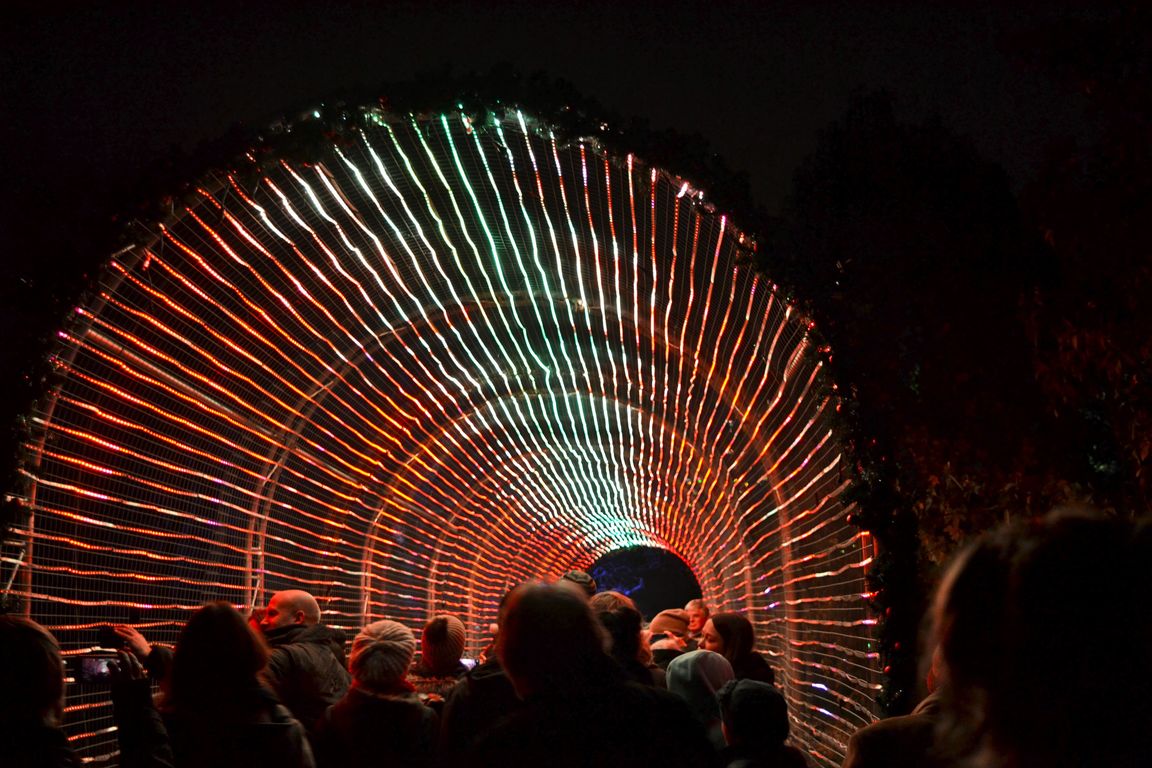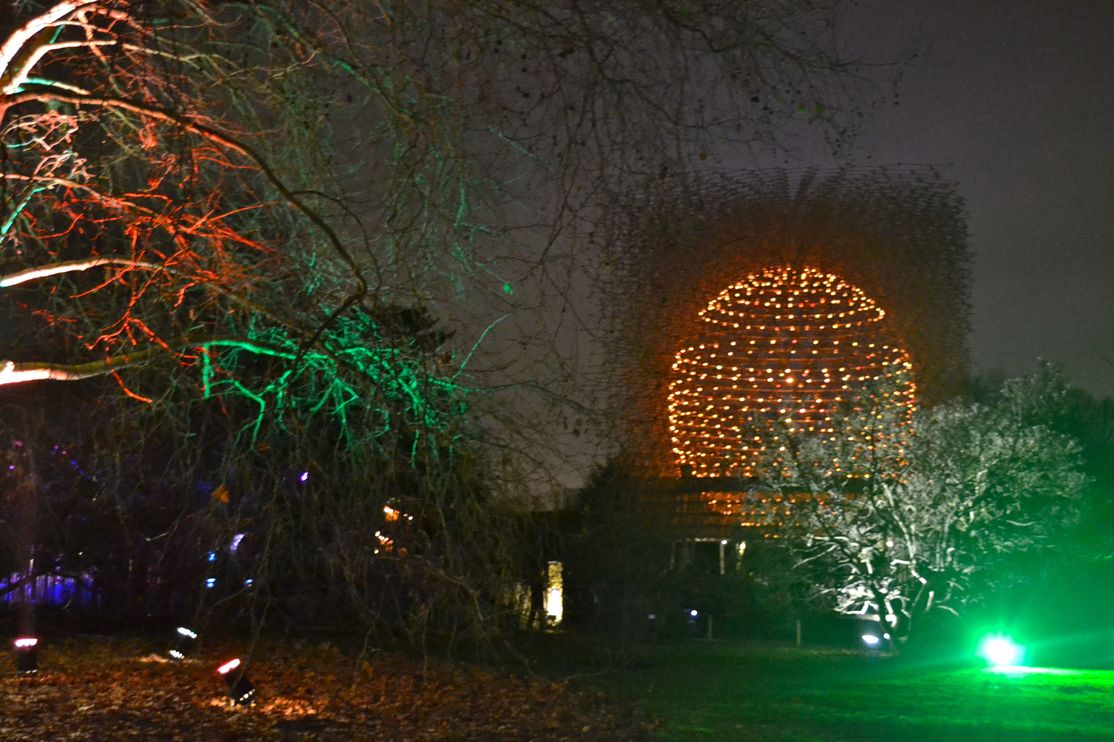 We obviously didn't go all the way to London without visiting Loop. I looked for naturally dyed yarns to see if they were immensely more delicious than the yarn I dye myself – and found three delicious yarns, but I'm happy to say that the yarn I dye is just as yummy. The first one is Shilashdair Luxury DK, which has quite intense colors, some of them quite vigorously variegated.
The second one is Linen Lace by Artisan Yarns. Beautiful muted colors and shiny texture. I seem to have thought just that also last time I visited Loop, because I actually have such a skein in my stash that I haven't knit with yet.
The third is Plant Dyed by Mehlsen. I have never come across this yarn before, although it seems to be made not far from where I live in Mainland Denmark. Remarkably, they the colors are really similar to the ones I dye! So they really spoke to me, and I was really tempted to buy some of this yarn, but an internal voice of reason talked me out of it.

In the end, I walked out of Loop with "Estonian Knitting 1, Traditions and Techniques" by Pink, Reimann, and Joeste, a big, excellent, clearly edited and well written book. Lots of interesting information and old photos, and lots of techniques.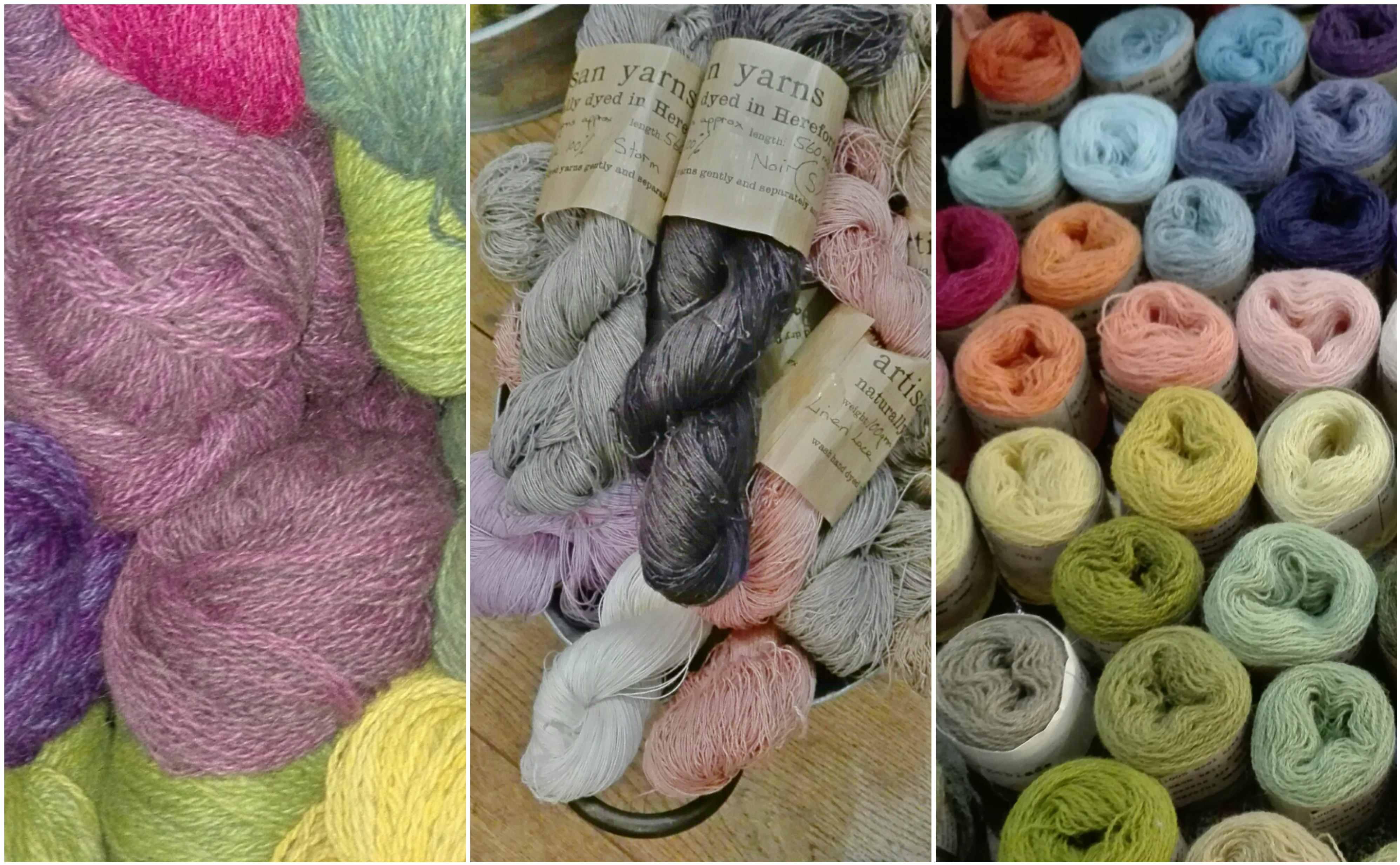 The Victoria and Albert Museum (V&A) was the last big highlight of the trip. This giant chandelier by Chihuly hangs in the entrance hall, it's hard to say if it's ugly or wonderful, but it's certainly impressive. I find his work always is impressive. It's also oddly at ease in the natural world – I remember seeing his work at the Botanical Garden in Chicago, and the Aquarium in Monterey, California. In both cases, the glass mimicked the living things that surrounded it.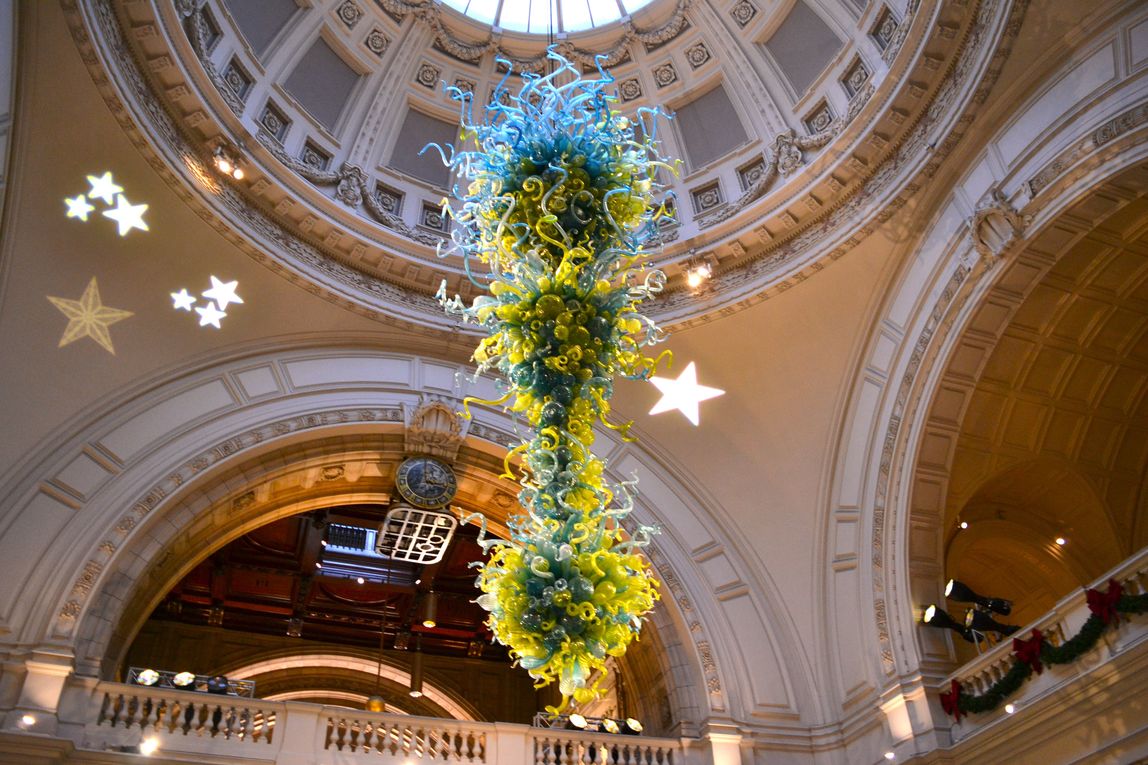 The V&A had this amazing knitted baby's gown, which had been displayed at the 1851 World Exhibition in London. It's hard to really see in photos, but the knitting is so, so tiny. Tiny! The museum text tells us only that "Miss Sarah Ann Cunliffe of Saffron Walden, Essex, knitted this dress" and that "It was made with 1 1/2 million stitches and approximately 5,770 metres of sewing cotton". We aren't told which needle size was used, but I would think 1 mm or maybe smaller.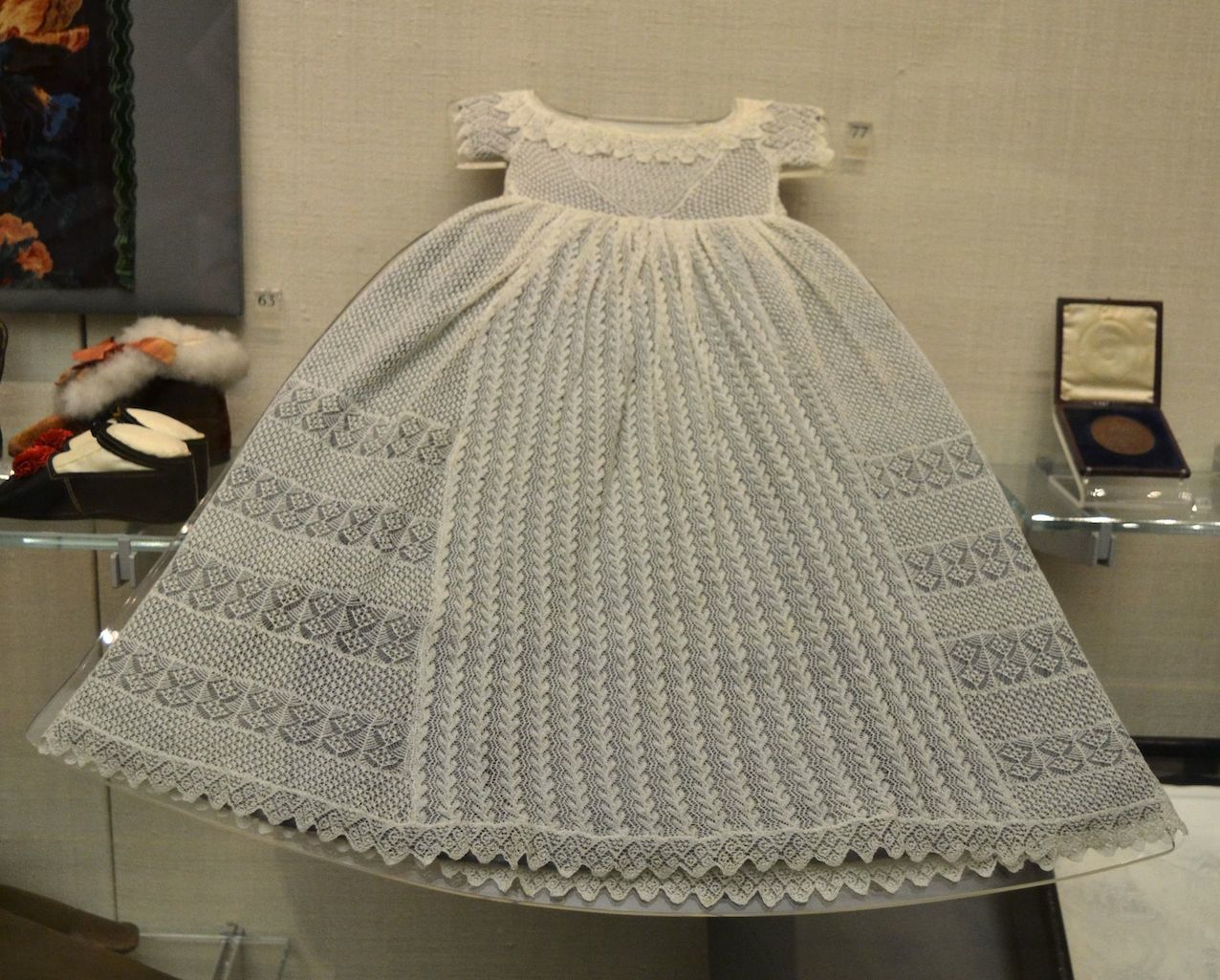 There is also many wonderful tapestries at the V&A, and since they are made long before 1856, we can be sure that all the dyes are natural. These tapestries are clearly worth studying for those worried that natural dyes won't last.
Here are a couple of details from a Belgian tapestry from 1718-24 titled "The March". Some of the yellows have paled (as expected) which leads to a blueing out of greens produced by yellow with indigo blue overdye, but not disturbingly so. I'd call a color that looks like this after 300 years light-fast.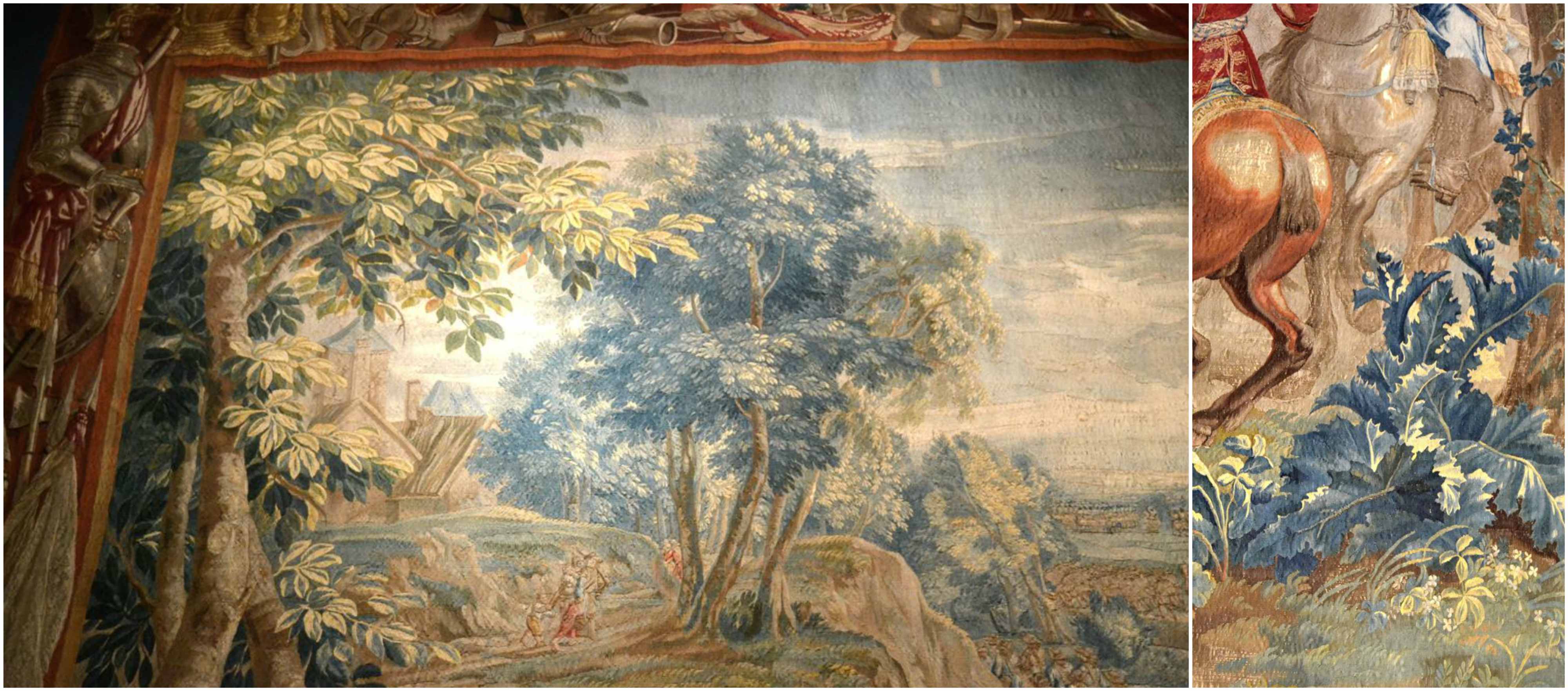 The only bad thing about our trip was that my potted Japanese indigo plant died while we were away. I uprooted this plant when I harvested the last of my plants in late October and it has been growing and flowering inside ever since. I cut it down, and looked inside the dead flowers. It looks like seeds, and it will be interesting to see if they will germinate.