Lichen windfall is perfect for natural dyeing, since it does no harm to pick up the fallen ones, they will no longer grow. One of the most common and easy-to-recognize lichens in windfall is Ramalina fastigiata.
~
When walking outside on rainy, windy days, I very often find lots of lichens scattered on the ground under trees. Lichens that the wind has torn down from branches. Sometimes, on the day after a big storm, I've come home from walks with all my pockets plus random trash bags filled with windfall. Wonderful windfall with that amazing scent that only lichens have.
Collecting windfall does no harm, since these lichens are not able to continue growing anyway. It's the best (some would say only) way to obtain lichens for dyeing. When I come home with such a treasure, I usually spread it out on a plastic tray to dry (to prevent mold).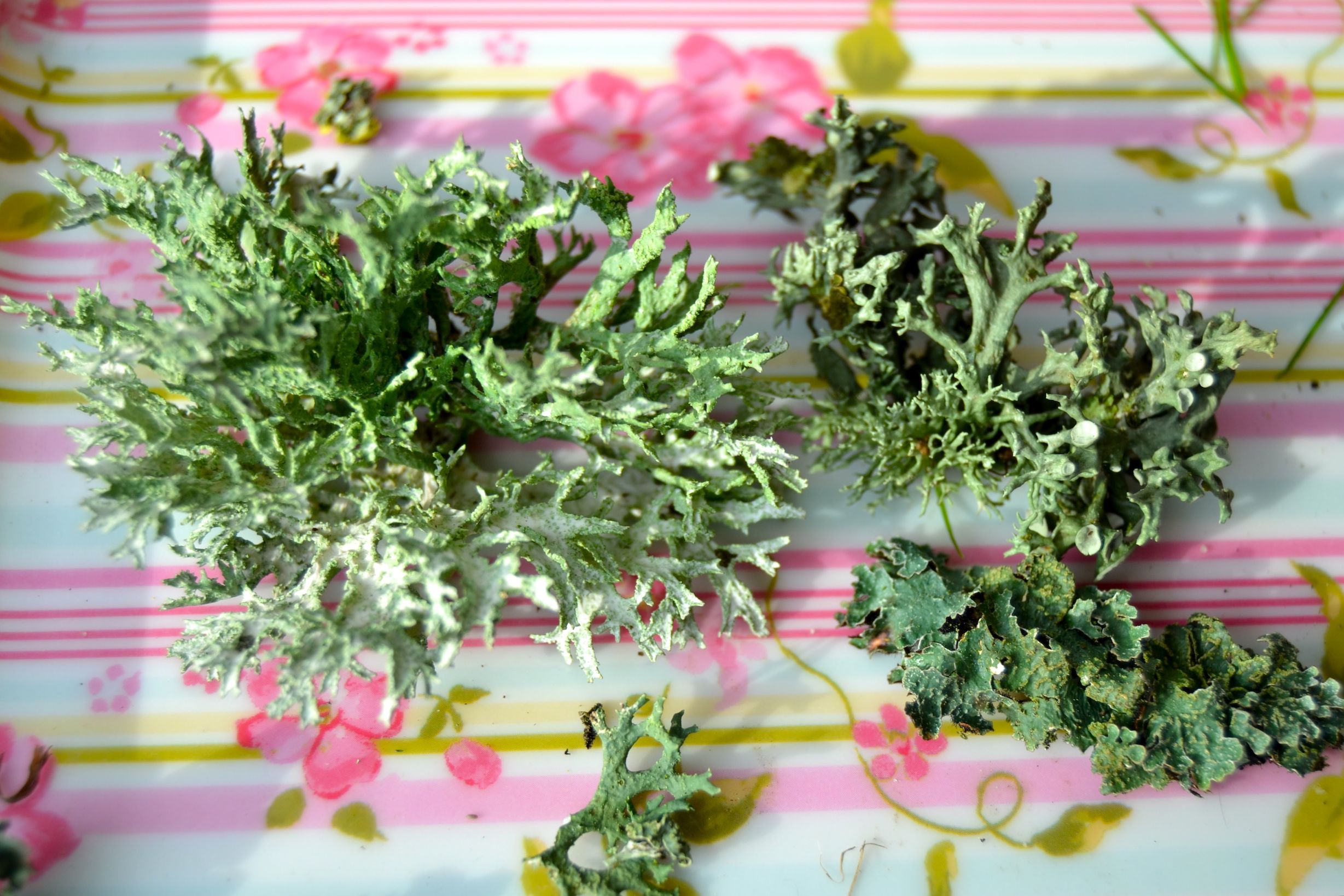 But before dyeing with lichen windfall, it's necessary to sort the lichens and determine the species, since you will need to use the boiling water method (BWM) with some species, and the ammonia method with others:
Boiling water method – it is what it sounds like. Simmer the lichen in water and cool off. Add the yarn to the dye bath and heat it for an hour without boiling.
Ammonia method – the difficult one. Steep the lichen in 1% ammonia (originally, stale urine was used) for several weeks or months, opening and shaking the jar daily to aerate. The red liquid in the jar is the dye bath.
In both methods, no mordant is required, since lichen dyes are substantive (they bind directly to wool without the help of a mordant).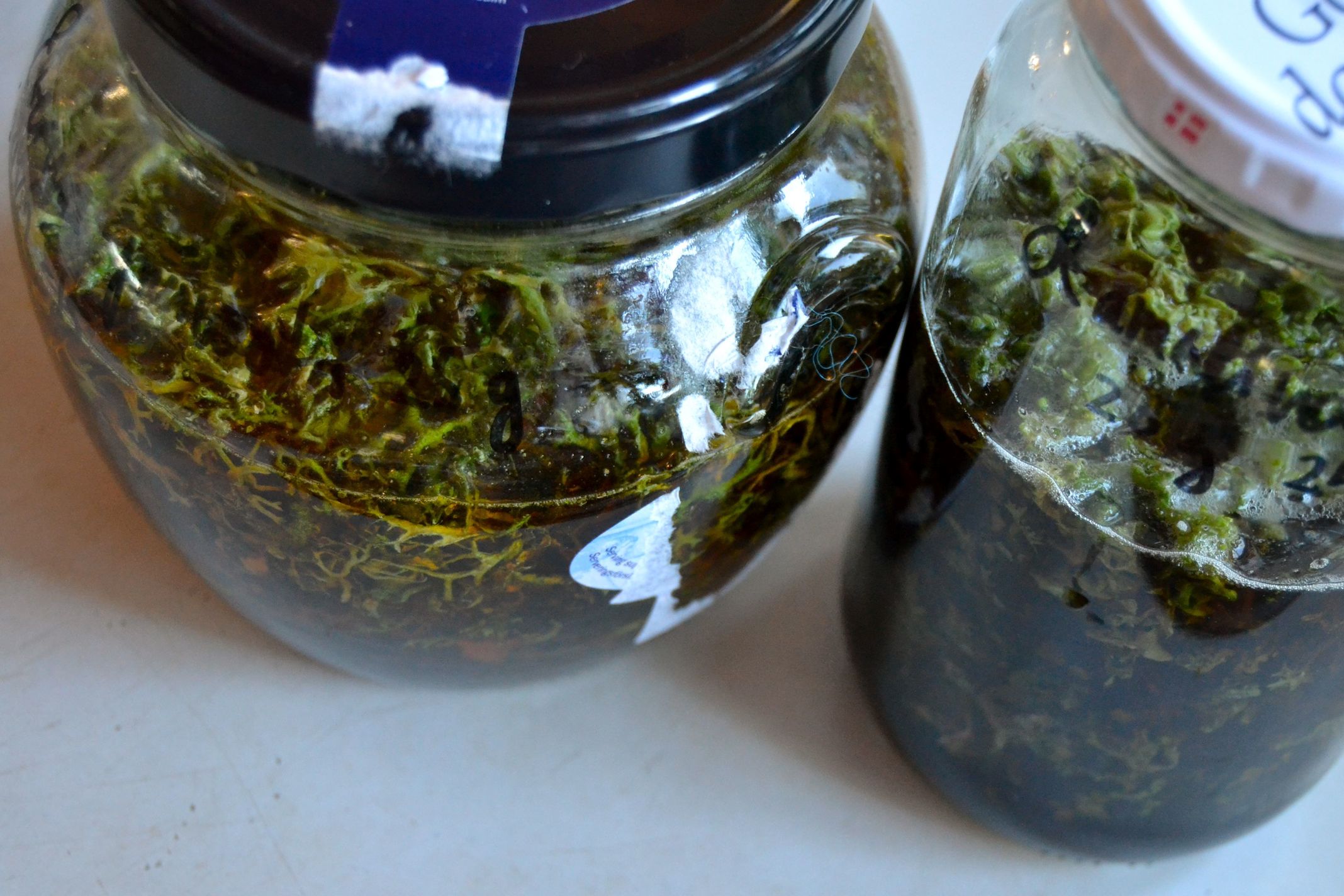 In order to type lichens, I recently bought myself a copy of "Lichens, An Illustrated Guide to the British and Irish Species" by Frank S. Dobson. It contains a detailed introduction to lichens, and a detailed key with photos and descriptions.
With my copy of Dobson, I'm planning to take a closer look at the types of lichens that are commonly found in the windfall here in my corner of Denmark. That is, how to recognize them, how to dye with them, and which colors to expect.
I'm beginning with a very common type of lichen, which may very well be the easiest one to recognize: Ramalina fastigiata. Often, large tufts of this will fall, and they are completely covered in small outgrowths that look like tiny suction cups. The outgrowths are apothecia, the fruiting bodies of the lichen. They make spores for sexual reproduction. When the spores germinate in a new location, they meet with a new alga to become a new individual lichen. But the dyer doesn't have to worry about all that, being able to recognize apothecia is the important part.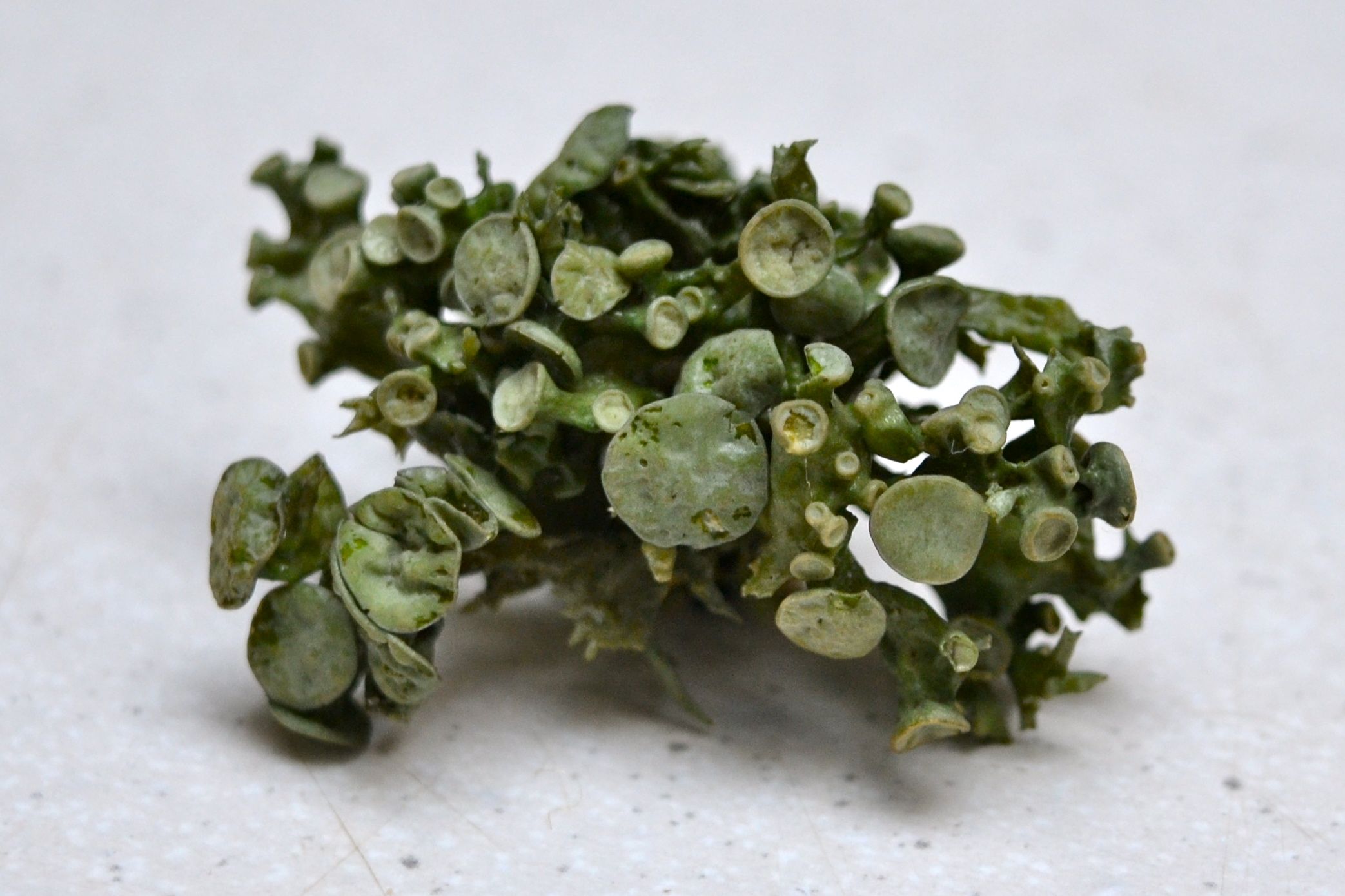 Karen D. Casselman mentions the Ramalina species on the list of ammonia methods lichens in her book, "Lichen Dyes, The New Source Book".
I've previously tested the ammonia method on Ramalina fastigiata and achieved a light rose color (pictures here).
But Casselman also mentions the and Ramalina species in her list of boiling water method lichens, so I decided to test that method on Ramalina fastigiata. I used equal amounts of wool yarn and lichen, and achieved no color at all (no pictures!). The conclusion: Ramalina fastigiata is strictly an ammonia method lichen.