I'm still busy digesting all the impressions from our trip to Japan, and I wrote about our visit to Tezomeya and Avril here.
But I think the highlight of the trip in terms of natural dyeing was our visit to Aizen Kobo.
It was a rainy day (and it seems that when it rains in Kyoto, it pours!) and I was almost worrying that we wouldn't find the place before it closed – but we made it, so I won't say anything more about the Japanese non-system of non-addresses that make it just basically impossible to find anything. Did I mention the names of small streets are not written in Latin lettering?
But we did make it, and it was really, really worth the effort. The indigo dyer Kenichi Utsuki and his wife spent a very long time showing us everything in the shop, and explaining the entire dye process. It was an honor to be able to learn about this from the master dyer himself.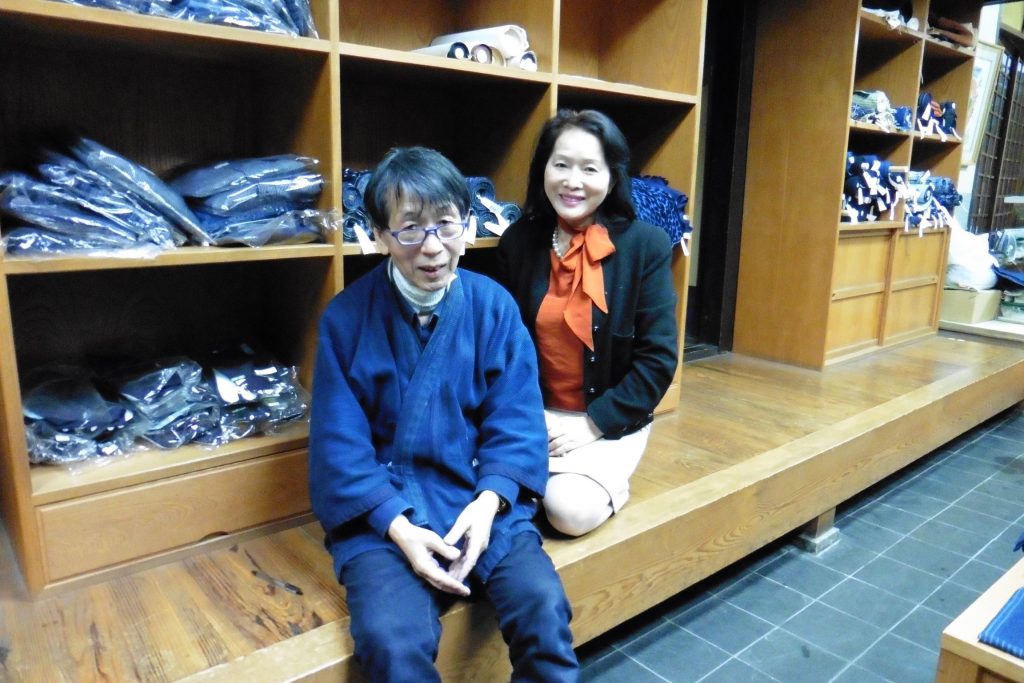 Kenichi Utsuki uses a traditional Japanese organic indigo vat. Japanese indigo (Polygonum tinctorium) is grown in the Tokushima area where a handful of farms still grow and compost it in the traditional way. After harvesting it in the late summer/fall, the leaves are composted in a process that ends when the the temperature becomes too low for it to continue. The indigo then makes its way to the dye pot the following year.
The traditional Japanese indigo vat is an organic fermentation vat where organic matter in the form of wheat bran and sake is added (this is the reducing agent) and the pH is raised using limestone powder and ash lye. If you want to read (a lot) more about the principles of this and other vats, I recommend the book "Indigo – Egyptian Mummies to Blue Jeans" by Jenny Balfour-Paul.
I didn't want to leave Kenichi Utsuki's shop without a souvenir, and after some indecision I finally decided that this shibori (tie-dye) silk scarf needed to come home with me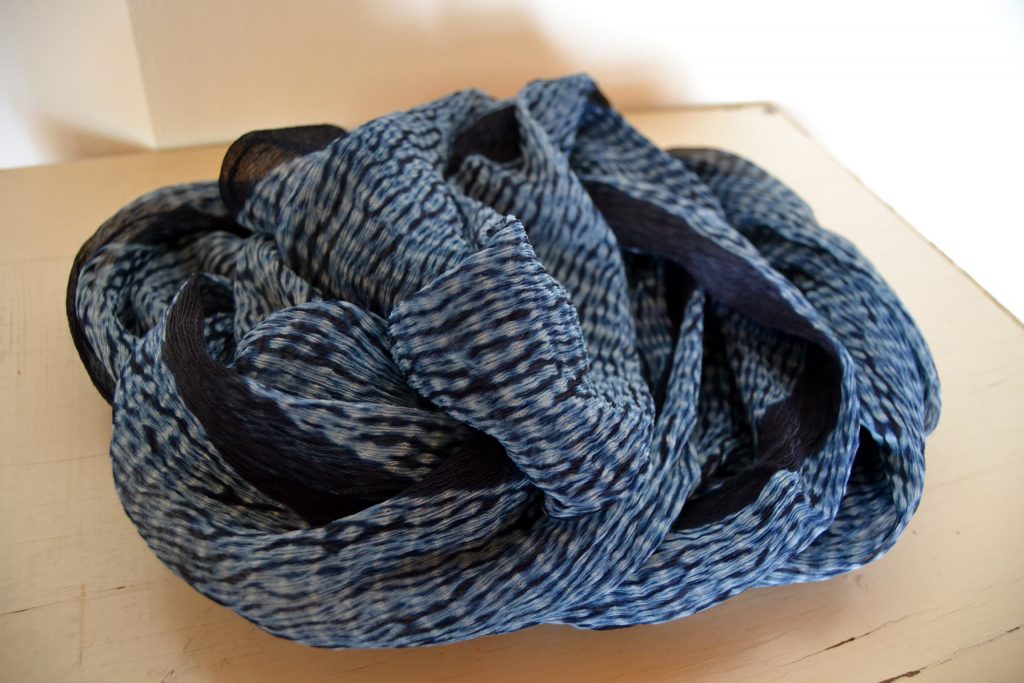 And here is a close-up, you can tell where the threads of the tie-dye process were. An interesting fact is that certain families tie, and other families dye (apparently this division of labor is age-old, and come to think of it, there were similar divisions in Europe at the time of the guilds).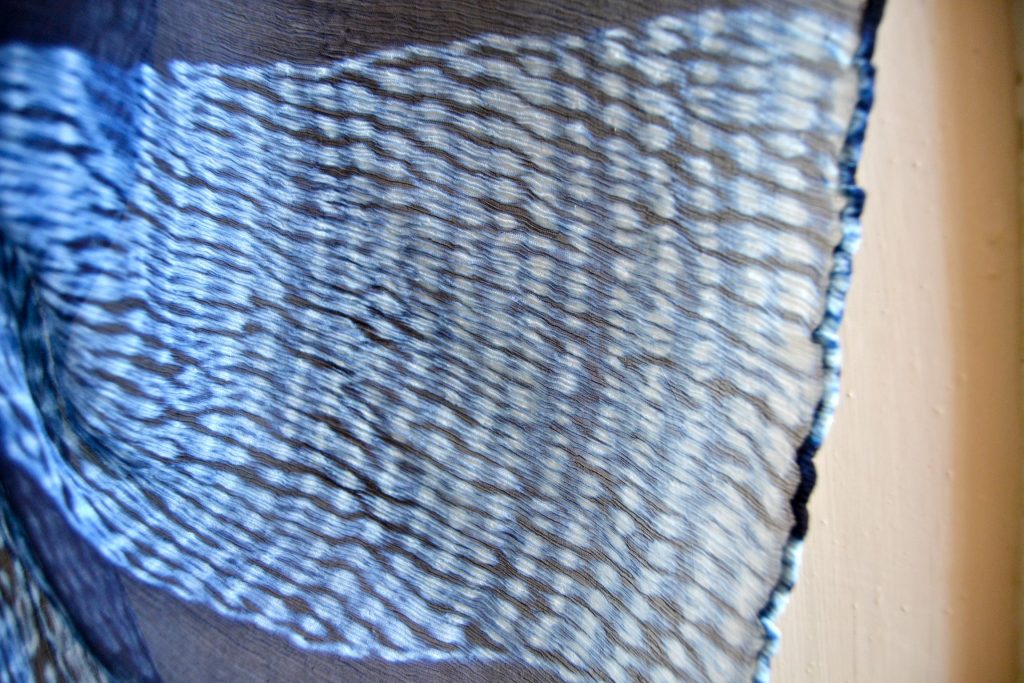 To the uninitiated, this silk scarf may just be a normal nice scarf. But the trained eye will definitely pick out the all the hand stitching and handmade ties, and above all the dramatic deep indigo blue that can only be achieved by repeated dipping.
PS: We didn't spend the entire holiday in Kyoto – we also went to Takayama in the mountains and to Tokyo. All the places we went to were really interesting, but Kyoto is the one that makes the number one spot on my list of places to visit again!
PPS: Not all of our trip centered around natural dyeing (although my family felt that way) and I really want to share some non-natural dyeing highlights here!
First, the alley of tori gates at Fushimi Inari Taisha (I was lucky to catch a couple of girls wearing kimonos in the frame)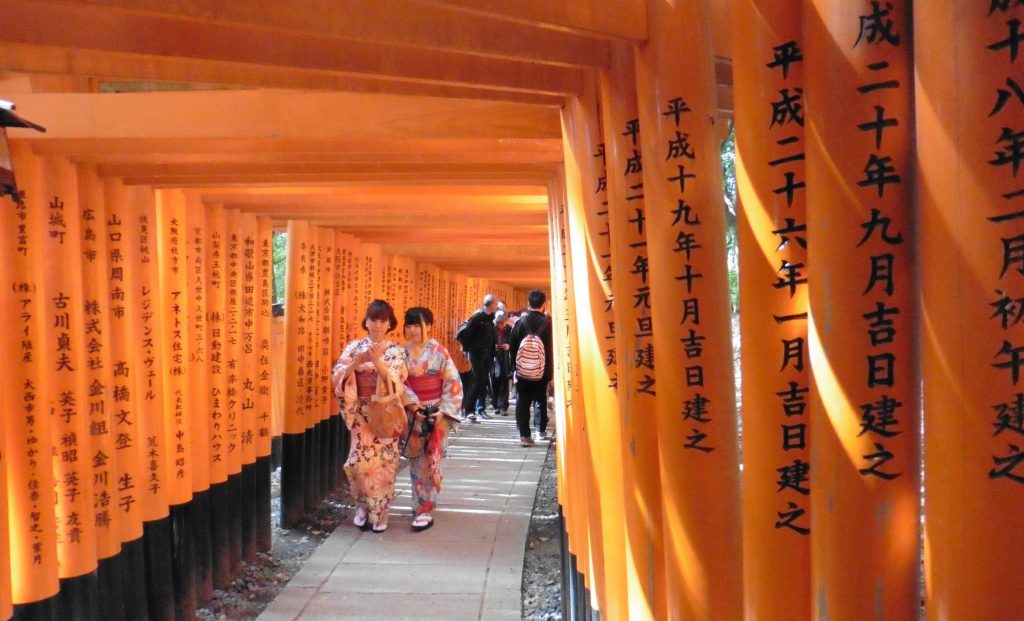 The Great Buddha in Nara – Ladies and Gentlemen, it's huge: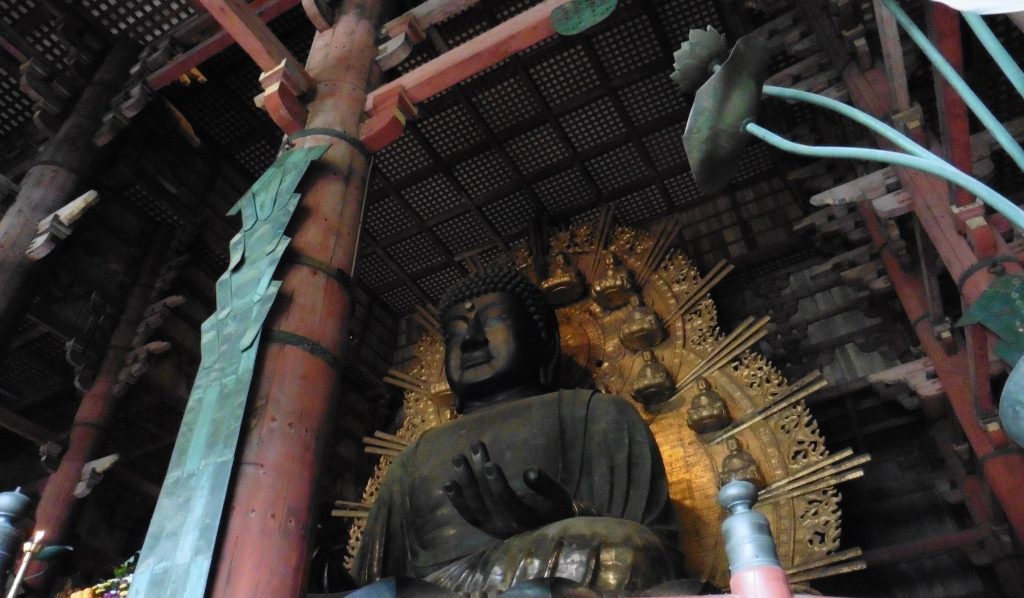 Free public foot baths – city planners everywhere ought to make this a priority: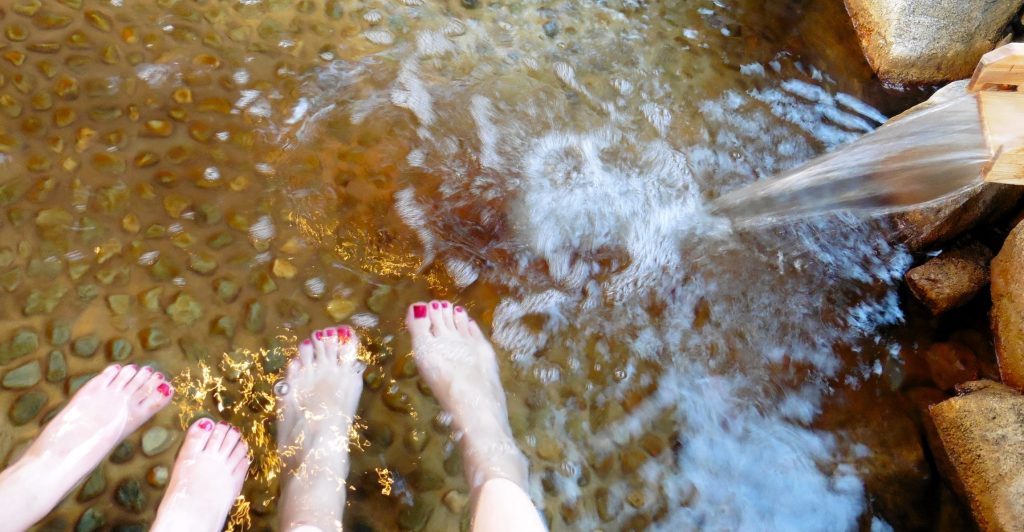 Taking Shinkansen – I read about that train when I was a child, but didn't really expect to really one day make it there. And if I somehow made it there, I most certainly did not expect that I would be sweating like a horse and dragging a lot of heavy luggage and screaming children. But it still exceeded expectations…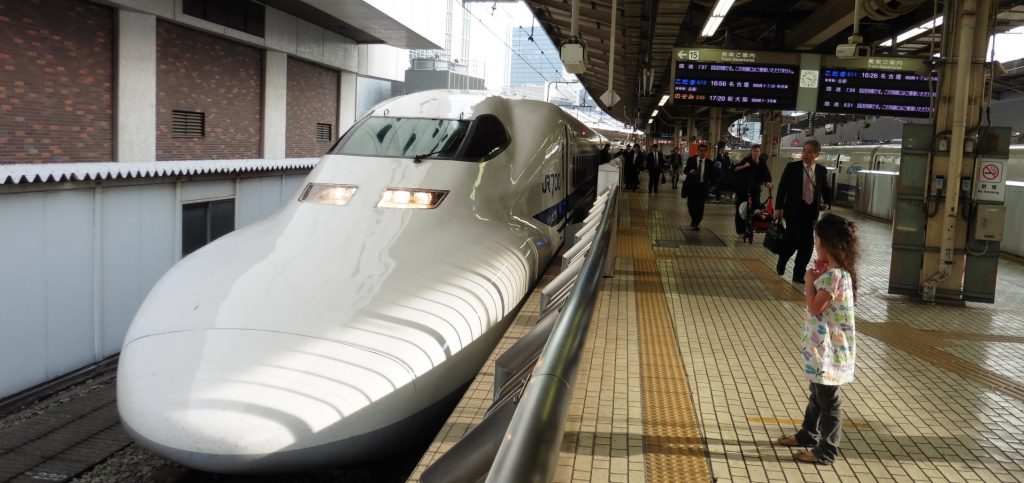 The thatched traditional houses of Shirakawa-go, with mountains and rice fields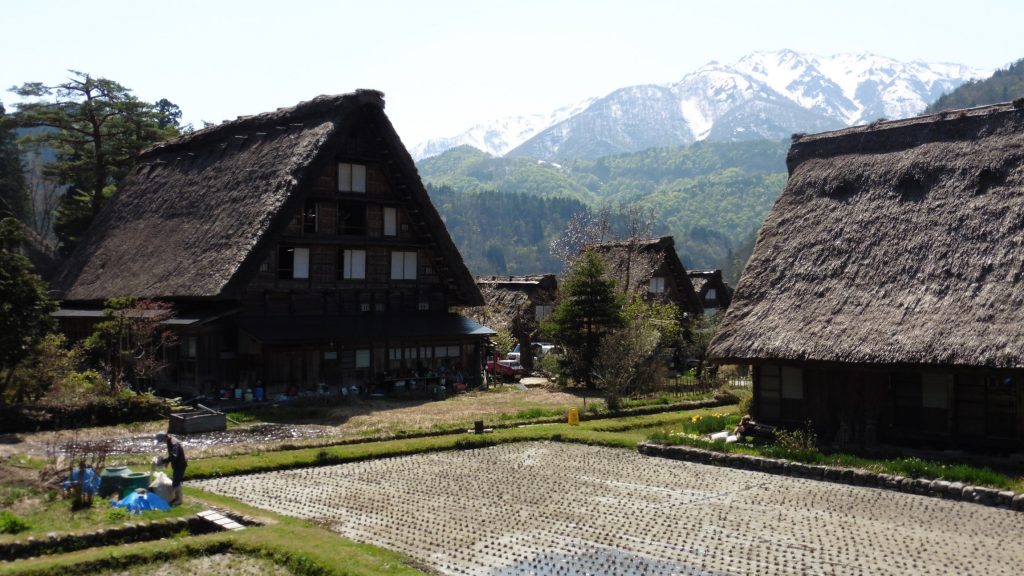 Japanese people in all age categories heavily armed with electronic equipment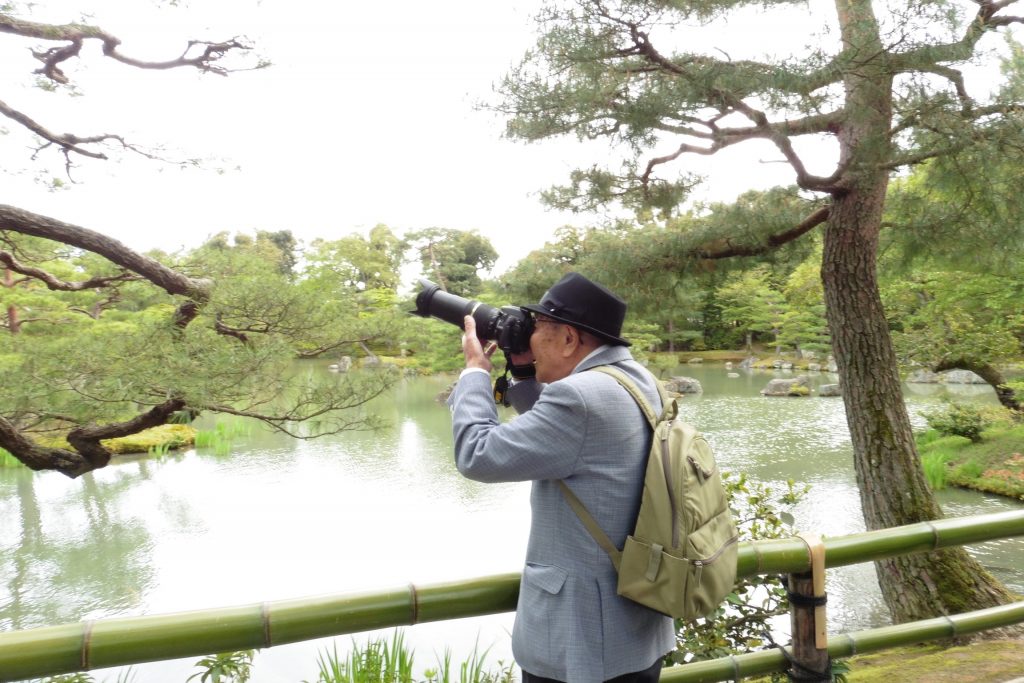 And finally the famous Shibuya crossing in Tokyo. Picture taken from the Starbucks next to it, because serious over-caffeination helps you navigate a city where changing lanes is hard when you are on foot!