Sometimes when I read something and there is one key word that doesn't compute, it's like my brain just jumps over the entire topic. Some time ago, searching for information on Xanthoria parietina and its pigment parietin, I came across information on the Rumex family. This is what I wrote back then
Parietin, Wikipedia informs us, is also found in the roots of curled dock (Rumex crispus). Jenny Dean lists the roots of curled dock, dock, and sorrel as sources of reddish browns, but I'm not sure if that has anything to do with its parietin content
but I didn't connect it to anything, because I didn't immediately see a plant in my mind's eye. This summer, I actually went through the trouble of looking it up (sic), and found that it is a very common plant around here.
I gathered these plants in late June: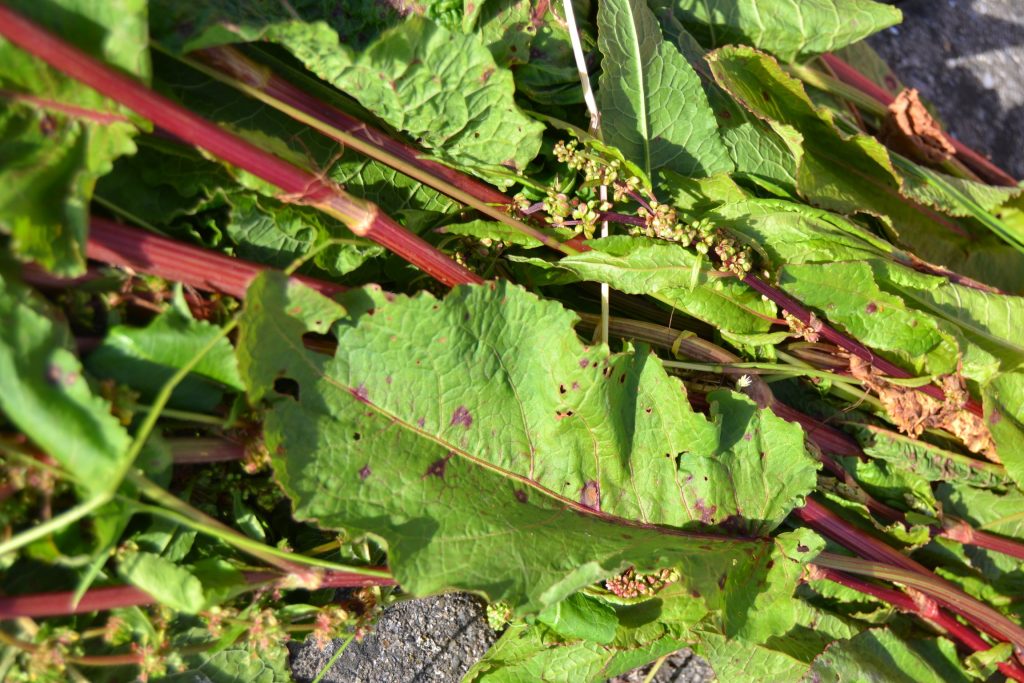 and I'm quite sure it's Rumex acetosa (common or garden sorrel) which, according to this, you can also eat the young leaves from. It often grows in damp or even wet places. It is actually a bit hard to pull the root up, it's easier the wetter the soil.
I tried dyeing with the roots according to the method in Jenny Dean's "Wild Color": I took 150 g of fresh roots, washed and chopped them, and at that point you can tell that they have some color in them: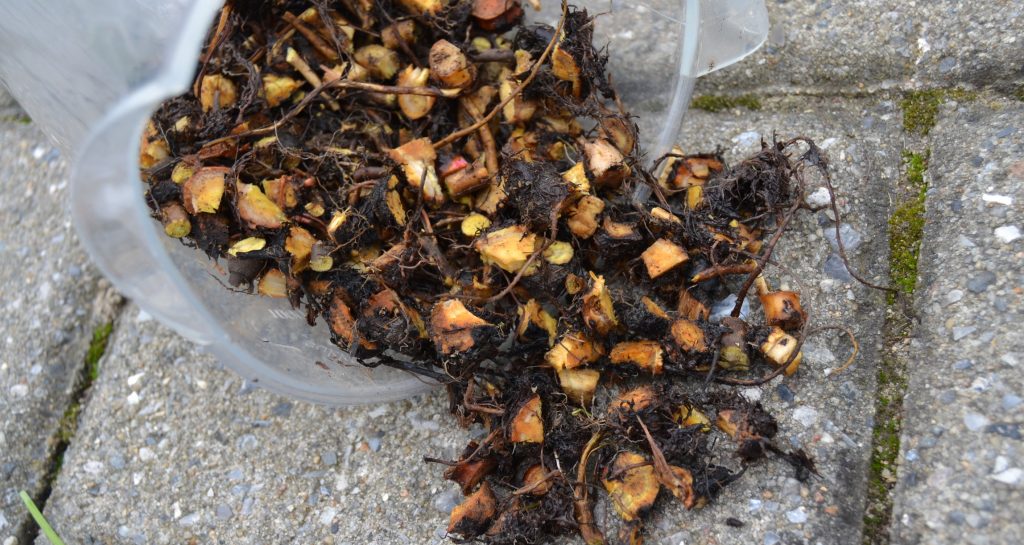 I then soaked them overnight, although I'm not sure that step is necessary when using fresh roots. No color worth mentioning came out of it at that point…
But it did give very nice reddish brown (just as Dean promised) when heated. I just kept repeating with 10-g test skeins, it took 4 skeins to exhaust the bath. That's a very good dye bath in my book! All the plant tops from those roots gave a brownish red-tinged yellow which is actually pretty nice, but I just tried that one one skein. Together they look like this – front to back its first to fourth root bath, then the plant tops all the way in the back: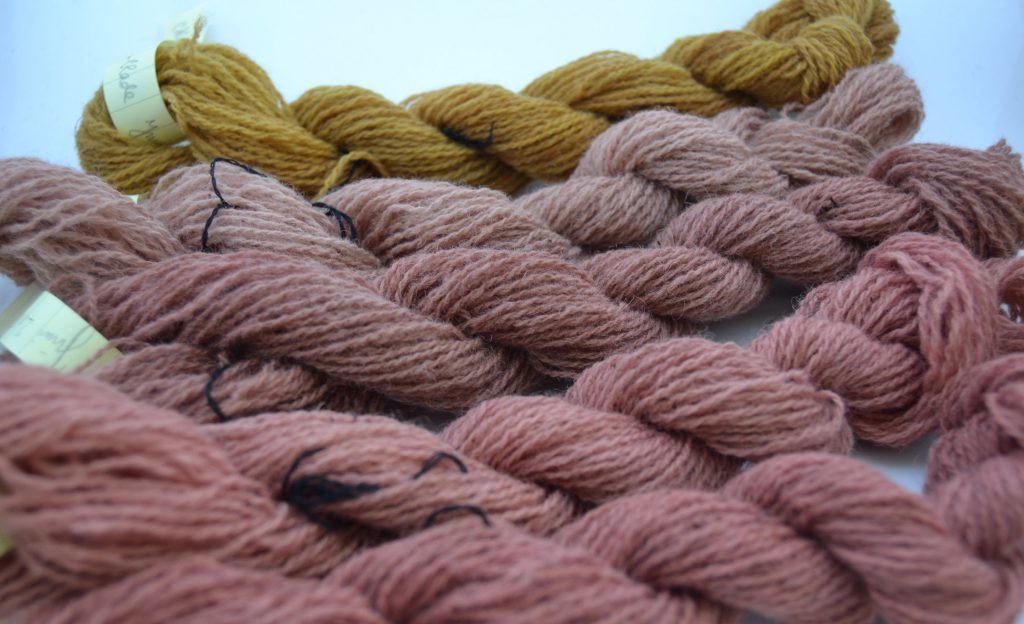 The result is quite pleasing, I think, and I began seeing similar plants just about everywhere. Another one that's common around here is this one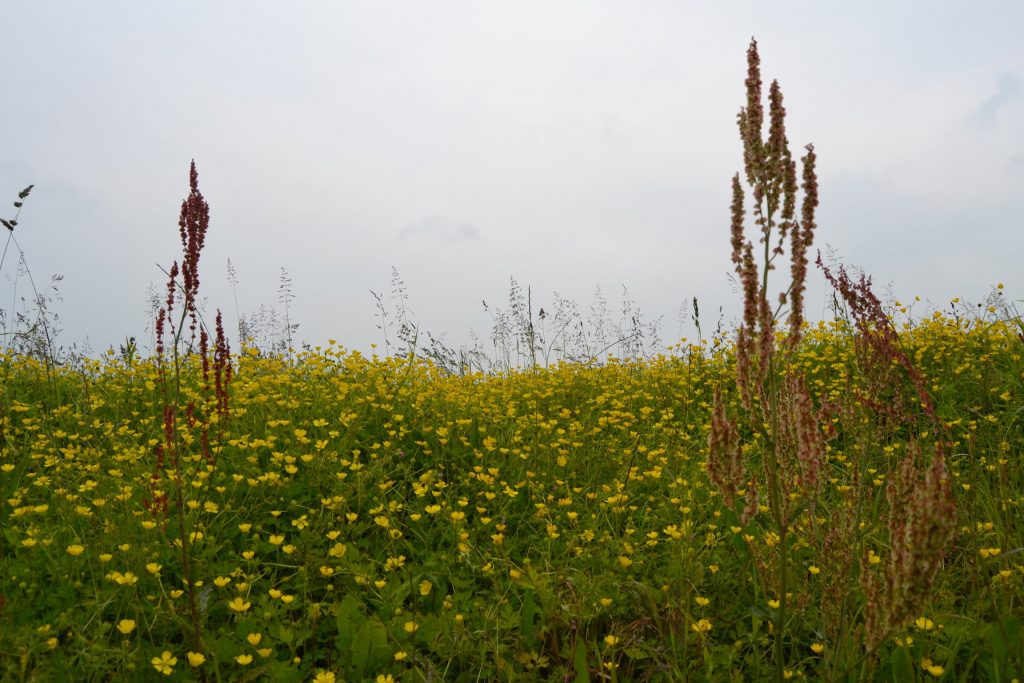 which is another member of the Rumex family, probably Rumex longifolius (dooryard dock) or Rumex crispus (curled dock). I've dug up some of these and dried the roots, to be saved for the meager dyeing days of winter.
FACTS – Rumex acetosa roots
Yarn Supersoft 575 m/100 g
Yarn:Dyestuff ratio 1:15 fresh roots was enough for 4 dye baths

Conclusion Lovely red-brown color

Possible improvements Not sure! This works!

Save
Save