I love color gradients! They somehow make the colors pop in a different way! Some of the individual colors in my gradient hat were not remotely exciting, but together, it's another story.
I kept imagining a warm gradient, from red to yellow. Sometimes such daydreams stay just that, but with this, I have come incredibly close to what I imagined: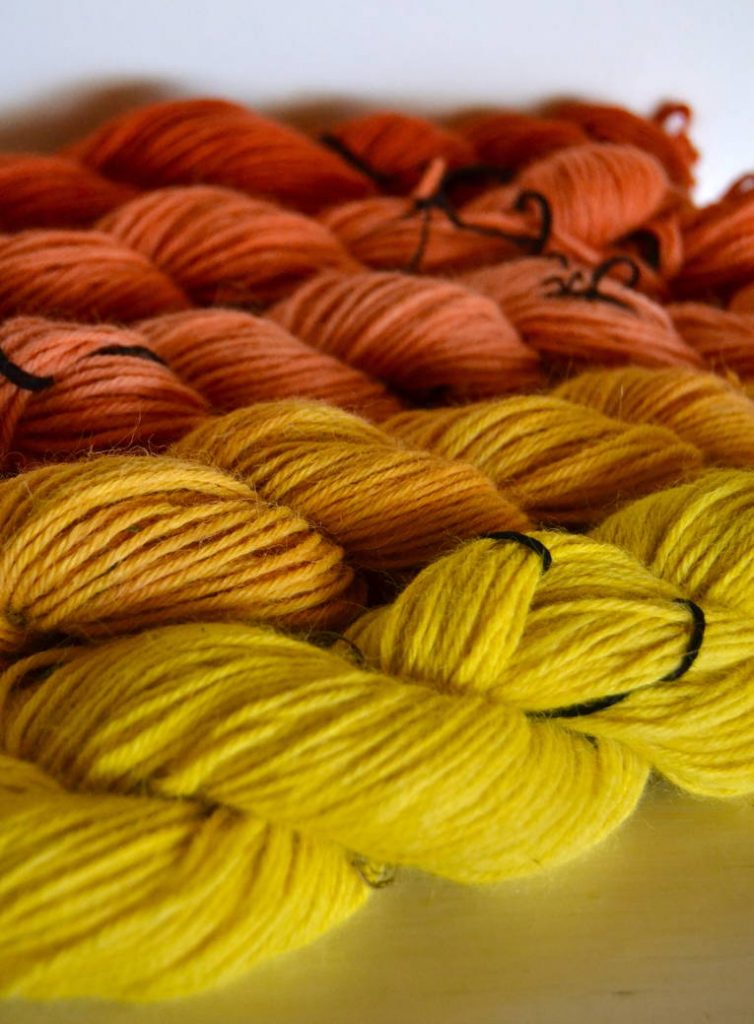 The red end of the gradient is madder, while the yellow end is tansy stalks and leaves (I used the flowers for something else already).
I achieve nice reds from madder by using rainwater. Some of my early attempts with madder gave only dull salmon shades because I used tap water, so now I always use rain.
It's well known that madder contains two dye molecules, a red and a yellow one, and that the yellow is released when you increase the heat above 65C. So I always heat the dye bath to 62C (or "roastbeef" on my meat thermometer) and then wrap the entire pot in a blanket. That keeps it warm until the next day, and it saves a lot of energy.
Yarn 100% alpaca, 110 m / 50 g
Conclusion Rainwater and heating to less than 62C gives reproducible good results
For the yellow end of my gradient, I used tansy that I picked at the roadside on walks close to my house last summer. As expected, the stalks and leaves gave a cold yellow – the flowers give a warm yellow.
FACTS – TANSY STALKS AND LEAVES
Yarn 100% alpaca, 110 m / 50 g
Yarn:Dyestuff ratio 1:2 dry
Conclusion Cold yellow, supposedly a good light and wash fast one
Possible Improvements Leaves are difficult to remove from yarn – this is a dyestuff that could benefit from straining before yarn is added
And that's it. The oranges in the middle of the gradient are madder exhaust baths, the last one overdyed with tansy yellow to make the transition smooth.
The next part of the daydream consists of a Bohus-style hat knit with this color gradient. I'm doodling away on paper right now to get it right before I start knitting. To be continued!
Jeg er vild med farvegradienter. Denne her fra rød over orange til varm gul har jeg lavet med kraprod og stilkene af rejnfan fra sidste sensommer.
Save